New Mexico had to deal with the fallout of a record-breaking snowstorm that crippled parts of the state, leaving a trail of traffic accidents and shutdowns.
In Albuquerque, police say officers responded to 178 weather-related accidents by 9:30 p.m. just by Saturday. About 58 involved people with injuries.
Officials also shut down a stretch of Interstate 40 leading to the Texas border because of hazardous driving conditions.
Police spokesman Fred Duran says hotels along I-40 were full and had to turn people away.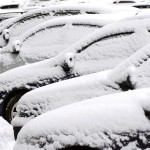 The National Weather Service says it is expecting historic snowfall totals.
Meteorologists say snow drifts more than 7 feet have been reported as blizzard conditions continue to slam central and eastern portions of the state.
Copyright 2020 Associated Press. All rights reserved. This material may not be published, broadcast, rewritten or redistributed.
Was this article valuable?
Here are more articles you may enjoy.