Lyft Inc. raised its proposed payout to 163,000 California drivers to $27 million in their lawsuit to be treated as employees rather than contractors.
The revised settlement comes after a San Francisco federal judge rejected an earlier $12.5 million offer, saying it would have shortchanged drivers. If approved by the judge, the settlement would let the ride-share company continue to classify drivers as independent contractors.
Lyft was a victim of its own success last month, when the judge rejected the earlier deal because it amounted to merely a sliver of the company's exploding revenue. Along with its larger rival Uber Technologies Inc., Lyft is attempting to avoid a trial over drivers' claims for the pay and benefits of employees.
"In light of Lyft's continued growth, we agreed to update the resolution in a way that both increased monies paid to drivers and helped preserve their flexibility to control when, where and for how long they drive on the platform," Kristin Sverchek, general counsel at Lyft, said Wednesday in an e-mailed statement.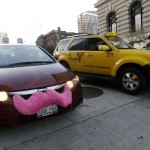 U.S. District Judge Vince Chhabria prodded the drivers' lawyer in March to acknowledge that in agreeing to the earlier deal, she hadn't accounted for the company's skyrocketing growth through the middle of February. Chhabria figured that, if the drivers had won at trial, the actual value of the reimbursement they sought for mileage and expenses was at least $126 million, and that other potential claims might make the case worth about $170 million.
The overall average payout would be $141.98, with about 88,000 drivers who worked less than 30 hours collecting no more than $42 each and about 80 who drove for more than 2,000 hours receiving $5,556 or more, according to a court filing. Drivers who were on duty for at least 30 hours a week for at least half of the weeks they drove for Lyft will receive more generous payouts than others.
Shannon Liss-Riordan, the drivers' lawyer, said in an e-mailed statement that the accord also provides protections for drivers through a revised deactivation policy. Going forward, drivers can only be deactivated in specific circumstances and not for "any reason." Lyft will also pay fees stemming from arbitration claims brought by the drivers.
"Although the agreement does not resolve for the future the question of whether Lyft drivers should properly be classified as employees or independent contractors, we believe this agreement provides a fair resolution of this case, will get money into the pockets of drivers now (rather than perhaps years down the road, if ever), and will provide them greater job security," Liss-Riordan said.
Lyft was hit with another lawsuit Wednesday by drivers who claim they've been cheated out of "prime-time premium" rider fees that the company promised to share with them. That case is also in San Francisco federal court.
The case is Cotter v. Lyft Inc., 13-cv-04065, U.S. District Court, Northern District of California (San Francisco).
Related:
Copyright 2021 Bloomberg.
Was this article valuable?
Here are more articles you may enjoy.