Hundreds of firefighters battled a 1,400-acre fire moving through coastal canyons in California on Thursday.
Hot, dry weather across the Western U.S. challenged firefighters with blazes in Arizona and New Mexico.
In California firefighters were forced to do battle with the fire in rugged coastal canyons west of Santa Barbara. Roughly 140 homes and ranches were at risk.
The fire was expanding and a freeway, U.S. 101, was closed for a second night.
Some 800 firefighters and a fleet of aircraft were assigned to the battle.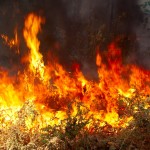 In central New Mexico, a blaze expanded to 25 square miles and forced residents of some small communities to flee. Several communities in Bernalillo and Torrance counties were placed under a mandatory evacuation orders.
A small community in central Arizona was evacuated and thousands of other residents were told to prepare to leave after a wildfire burned more than 12 square miles. The fire broke out Wednesday 12 miles south of Show Low, and gusty winds pushed it into brush and ponderosa pine.
In Nevada, a 300-acre brush fire in Reno that threatened dozens of homes was 75 percent contained by Thursday evening.
Copyright 2021 Associated Press. All rights reserved. This material may not be published, broadcast, rewritten or redistributed.
Was this article valuable?
Here are more articles you may enjoy.