Thousands were forced to flee a wildfire burning in tinder-dry canyons in Southern California, authorities said.
The fire has destroyed at least 18 homes in northern Los Angeles County. The blaze momentum two days after it broke out.
About 300 miles up the coast, crews were battling another fire spanning more than 17 square miles that destroyed six homes on Sunday and forced evacuations outside the scenic Big Sur region.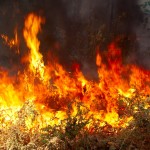 The Southern California blaze has blackened more than 34 square miles of brush on ridgelines near the city of Santa Clarita, and authorities found a burned body in a car. No new measurements were available, but officials said the fire might now be double that size.
More than 1,600 firefighters were battling the flames that sent up a huge plume of smoke visible across the region.
Related:
Copyright 2021 Associated Press. All rights reserved. This material may not be published, broadcast, rewritten or redistributed.
Topics California Catastrophe Natural Disasters Wildfire Homeowners
Was this article valuable?
Here are more articles you may enjoy.