Lodge managers and cafe owners along California's dramatic Big Sur coast were looking at a summer of jittery guests and cancelled bookings after fire officials warned that crews will likely be battling a wildfire raging in steep, forested ridges just to the north for another month.
Big Sur establishments were already reporting as much as a 50 percent drop in business, said Stan Russell, executive director of the chamber of commerce. That's even though the only signs of the blaze were fire trucks and an occasional whiff of smoke along the famously winding and scenic Highway 1.
Normally, this time of year "is when everybody really runs at 100 percent," Russell said Friday about tourism in the area. "This is when we make our money."
The week-old blaze a few miles north of Big Sur had been blamed for one death, that of a bulldozer operator working the fire line. The fire has destroyed 57 homes and burned 42 square miles (134 square kilometers).
Flames were concentrated in forested ridges above the summer fog line along the coast. Many patches of fire were in areas too steep to be reached, the California Department of Forestry and Fire Protection said.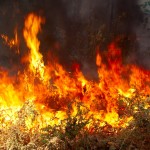 More than 5,000 firefighters were battling the wildfire that officials expect to linger until the end of August.
Highway 1 remained open, but signs along the narrow route warned travelers that all state parks in the area were closed because of the fire.
At the luxury Post Ranch Inn, where clifftop rooms that open to sweeping views of the Pacific Ocean go for more than $2,000 a night, general manager Kevin Geanides was offering refunds to guests canceling stays because of the wildfire. Business was off about one-fourth, he estimated.
Smoke was thick along the Big Sur coast for the first days of the blaze. With a shift in the wind, "the past few days, if you were standing on our ridge, you wouldn't even know there was a fire," Geanides said. Other residents and travelers agreed.
Hotel workers reviewed emergency evacuation plans as a precaution, despite the blue skies along the coast.
Fire officials earlier in the week ordered at least 350 residents to leave homes that were much closer to the flames.
Keith Bispo of the hard-hit Palo Colorado community of Big Sur defied the evacuation order, even though his wife, 1-year-old child, five dogs and two cats pulled out.
On Friday, Bispo's house still stood. Many of his neighbors' homes were gone.
"I wanted to stay here, and if it was going to burn, I was going to watch it burn," Bispo said. "I was going to do everything I can to stop it."
Related:
Copyright 2021 Associated Press. All rights reserved. This material may not be published, broadcast, rewritten or redistributed.
Was this article valuable?
Here are more articles you may enjoy.