Gov. Jay Inslee has declared a state of emergency for 20 Eastern Washington counties in response to multiple wildfires that threaten homes and natural resources.
Inslee issued the declaration Tuesday after touring fires in the Spokane region.
Inslee noted that hot and windy weather conditions are forecast for the next seven days.
Inslee's proclamation directs state agencies to do everything reasonably possible to assist local governments in responding and recovering from fires.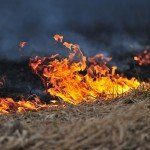 It also calls on staff at the State Emergency Operations Center to coordinate state firefighting efforts and allows the use of the National Guard if local jurisdictions need more resources.
The proclamation covers Adams, Asotin, Benton, Chelan, Columbia, Douglas, Ferry, Franklin, Garfield, Grant, Kittitas, Klickitat, Lincoln, Okanogan, Pend Oreille, Spokane, Stevens, Yakima, Walla Walla and Whitman counties.
Copyright 2021 Associated Press. All rights reserved. This material may not be published, broadcast, rewritten or redistributed.
Was this article valuable?
Here are more articles you may enjoy.