A federal judge in Seattle, Wash. has temporarily blocked the city's first-in-the-nation law allowing drivers of ridesharing companies such as Uber and Lyft to unionize over pay and working conditions.
U.S. District Judge Robert Lasnik's ruling came after he heard arguments last week in a case brought by the U.S. Chamber of Commerce. He said his decision is not an indication of how he will ultimately rule.
"The issues raised in this litigation are novel, they are complex, and they reside at the intersection of national policies that have been decades in the making," Lasnik wrote. "The public will be well-served by maintaining the status quo while the issues are given careful judicial consideration as to whether the city's well-meaning ordinance can survive the scrutiny our laws require."
It requires companies that hire or contract with drivers of taxis, for-hire transportation companies and app-based ridesharing services to bargain with the drivers, if a majority shows they want to be represented.
The legislation approved by the Seattle City Council in late 2015 was seen as a test case for the changing 21st century workforce. The city has been a national leader on workers' rights, gradually raising the minimum wage to $15 and requiring most employers to provide paid sick leave.
The chamber sued to block the law before this week's deadline for the companies to provide information about their most active drivers to the Teamsters union, launching the first step to unionization. Disclosing that sensitive information could hurt the companies by potentially making it available to competitors, the chamber said.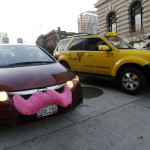 A group of 11 Seattle Uber and Lyft drivers opposed to the law also sued to block it. Lasnik said his ruling applies to both cases.
Mark Mix, president of the National Right to Work Foundation, which is representing the drivers, called the judge's decision "a critical first step toward protecting the rights of drivers who don't want Teamsters organizers to have their private contact information, and especially oppose having union so-called representation forced on them against their will."
Brooke Steger, general manager for Uber in the Pacific Northwest, said the company looks forward "to the court's full consideration of the many serious legal questions about this ordinance."
The chamber argues that federal antitrust and labor law trumps the city's statute. The judge said the chamber was unlikely to succeed on those claims or its chances were not clear but he put the law on hold because the lawsuits raised serious questions.
Federal antitrust laws allow states or cities to adopt reasonable regulations to protect the public interest, even if they have anti-competitive effects, such as price-fixing for taxi fares. Seattle must adopt such regulations to further state laws, and it's not clear that Washington's laws governing the for-hire transportation industry apply to ride-hailing companies, Lasnik said.
"There can be no doubt that rideshare companies such as Uber and Lyft have, at a truly startling rate, created havoc in this industry using a business model that simply did not exist before its recent technological development," he wrote. "Whether existing state law covers, or was intended to cover, the sort of regulation the city attempts through the ordinance is far from clear."
Seattle's lawyers said allowing drivers to bargain over their working conditions will make the industry safer and more reliable. City Attorney Pete Holmes said the city will continue its efforts to defeat the lawsuits.
City Councilman Mike O'Brien, who proposed the law, said he felt encouraged by the judge's comments that the ordinance stemmed from "reasonable public policy concerns."
"What we've seen in this industry highlights this continual erosion of what so many folks believe are the rights of workers in this country," O'Brien said. "These drivers aren't guaranteed any minimum wage. There's no health-care requirements. … We were going to see how we could restore that."
Related:
Copyright 2020 Associated Press. All rights reserved. This material may not be published, broadcast, rewritten or redistributed.
Was this article valuable?
Here are more articles you may enjoy.