Denali's first Uber driver has hit the streets following Gov. Bill Walker's recent signing of a ridesharing bill.
The first thing Noah Treky, 36, did was turn on his Uber app after the governor's approval in June, The Fairbanks Daily News-Miner reported.
"When I heard Uber was coming back to Alaska, I started keeping track of the news," Treky said.
Treky was an Uber driver in Nevada in 2015. After returning to Alaska in March, he carefully watched as the Legislature considered allowing Uber to operate in the state.
Treky works in housekeeping during the mornings at a development of private cabins. In the afternoon, he switches into Uber mode and is available until midnight.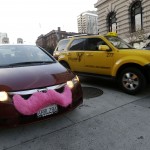 "If it's in Denali, it's gonna be me," Treky said.
General Manager Henry Wilton of Denali Transportation Services, the borough's taxi company, said he isn't too worried about Uber stealing business.
"The simple truth is, I have been wicked busy lately," Wilton said. Also, Uber bases their prices on the mileage between pickups and drop offs, he said.
"Up here, eventually, that might hurt your bottom line as an independent driver," he said.
Related:
Copyright 2020 Associated Press. All rights reserved. This material may not be published, broadcast, rewritten or redistributed.
Was this article valuable?
Here are more articles you may enjoy.