A Northern California wildfire has destroyed 37 structures, at least some of them homes. The figure is up from 17 destroyed structures previously reported by state fire officials.
However, the blaze weakened significantly Monday and waves of the thousands of Oroville residents whose homes were evacuated at the fire's peak were being allowed to return.
Officials say five more structures were damaged by the wildfire north of Sacramento that has burned 9 square miles (23 square kilometers) and is 40 percent contained. They would not say how many of the burned structures were homes.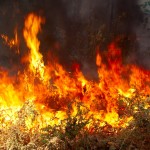 It's among several large wildfires burning around California and throughout the West.
Related:
Copyright 2020 Associated Press. All rights reserved. This material may not be published, broadcast, rewritten or redistributed.
Was this article valuable?
Here are more articles you may enjoy.