A wildfire burning in central California tripled in size Monday, forcing more people from their homes as firefighters battle the day-old blaze.
The fire is burning near Lake McClure, a reservoir about 50 miles east of Modesto. It has scorched 17 square miles since it broke out Sunday afternoon, according to the California Department of Forestry and Fire Protection.
Officials have ordered evacuations for an unknown number of homes. The fire has destroyed one home and damaged another.
No one has been reported injured.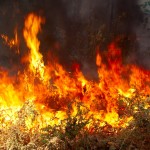 The cause of the fire remains under investigation.
In Northern California, a 900-acre wildfire in Mendocino County has also triggered an evacuation of homes. That fire is 25 percent contained.
To the south, crews are struggling to surround a 28-square-mile fire burning for more than a week in the mountains of Santa Barbara County. It is 49 percent contained after destroying 16 homes.
Copyright 2020 Associated Press. All rights reserved. This material may not be published, broadcast, rewritten or redistributed.
Was this article valuable?
Here are more articles you may enjoy.