Tom Fallon, 63, of Long Beach, Calif., is being arraigned today in Superior Court in Long Beach on multiple felony charges including theft by embezzlement and money laundering.
Fallon's daughter, Christina Fallon, 28, also of Long Beach, is scheduled to surrender herself at the Long Beach Police Department today and is facing the same felony charges.
According to investigators with the California Department of Insurance Investigation Division, Tom Fallon and his daughter allegedly embezzled $273,954 from injured workers who trusted him to invest settlement funds from workplace accidents with his company Fortis Financial Insurance Services Inc., and then diverted their funds to his own accounts for his personal use.
"The Fallons' alleged theft from injured workers is particularly egregious," Insurance Commissioner Dave Jones said in a statement. "By stealing from injured workers who depend on the funds for future care, the Fallons may have left many victims without the resources they need for medical treatment."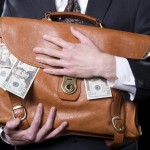 Evidence show Tom Fallon suggested two victims who received a $273,974 settlement from a work-related traffic collision deposit their accident settlement funds with him in what's known as a Workers' Compensation Set Aside Arrangement, which would provide investment management for their settlement.
In 2014, the victims received an interest payment check from Tom Fallon that bounced for non-sufficient funds. The victims filed a request for assistance with the California Department of Insurance Consumer Services Division, which led to a criminal investigation that uncovered the alleged crime and revealed Fallon embezzled more than $250,000 from the victims and used the funds for his personal expenses and business ventures, including Big Daddy's Cigar lounge in Naples.
The Los Angeles County District Attorney's Office filed a criminal complaint against Tom and Christina Fallon on July 14, charging two counts of theft by embezzlement, and 15 counts of money laundering. If convicted of all charges, the defendants face a maximum sentence of more than 16 years in state prison.
Was this article valuable?
Here are more articles you may enjoy.