Weather conditions have halped crews batttle a blaze in Yosemite National Park that has forced the evacuation of the tiny California community of Wawona.
The blaze is now 3,820 acres and is now 17 percent contained.
Singh said thunderstorms forecast for the fire zone did not materialize, but more thunderstorms that could fuel the blaze were expected.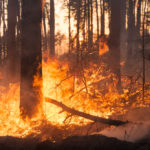 Authorities ordered residents in and around Wawona to evacuate Saturday as flames came within 1 1/2 miles and air quality reached hazardous levels. The Mariposa County community has a population of 1,000 to 2,000 people at any given time.
There are currently 758 personnel assigned to the fire.
Copyright 2020 Associated Press. All rights reserved. This material may not be published, broadcast, rewritten or redistributed.
Was this article valuable?
Here are more articles you may enjoy.