Although still burning, the largest fires that have devastated California wine country are mostly contained, and winemakers, winery owners, and growers began taking stock this week of what they have—and haven't—lost.
The numbers are numbing: at least 42 dead, nearly 100,000 evacuated, more than 5,700 homes, businesses, and wineries destroyed or damaged, more than 200,000 acres burned in total, and many vineyards singed and torched, according to an Oct. 17 announcement by CalFire, the state department of forestry and fire protection.
If you're a wine lover, you know the people and places behind these numbers. The wineries include Signorello Estate, Paradise Ridge, Frey Vineyards, White Rock Vineyards, Roy Estate, Mayacamas, Pulido-Walker, Michael Mondavi Family Estate, and more that make the reds and whites you love to drink. As of now, 22 wineries have been damaged in northern California, with effects ranging from lost buildings to burned vines and ruined wine product.
Tom Pagano, a wine expert and account executive at global insurance broker Aon said overall damage could be in the $5 billion to $6 billion range and maybe worse. "It will take at least a couple of months to assess," he said in a phone interview. "And it may be years before we know the final numbers." The wine industry generates about $26 billion annually for Napa and Sonoma, according to the most recent reports from vintners' groups.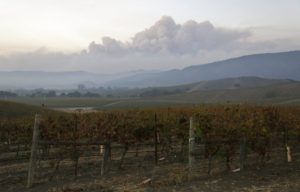 Yet despite the horrific human toll and massive damage, early signs indicate that northern California's wine industry isn't ruined beyond repair and that much of its 2017 business can be rescued.
Ray Signorello's eponymous estate on Napa's Silverado Trail in the Stags Leap District was one of the hardest hit by the fast-moving Atlas Fire. The main winery building and much of the winemaking equipment, the handsome tasting room, and his family residence went down in flames more than a week ago and are now rubble. The hillside and 100-year-old oaks behind it all are black and scorched, although the barrel cellar survived. He says he'll rebuild, and he has already leased office space for his team in the nearby city of Napa.
Amazingly, the 28-year-old vines on his 42-acre vineyard are fine. "If I'd lost the vineyard," he said, "I'd be out of business." Signorello's grapes had already been picked and pressed, so his 2017 wine was in tanks outside on the crushpad, ready to be put into barrels. Inexplicably, miraculously, he says, the fire went around them, but the winemaker hasn't yet been able to test the wine in the tanks for heat damage.
Much of the destruction in the region was winery buildings and owner residences. In Sonoma, at Paradise Ridge winery, the building, the tasting room, and events center were completely gutted by fire. Backbone winery in Mendocino burned to the ground along with its library of wines made over the past five years. Homes, barns, and sheds at Napa's White Rock vineyards are gone, along with hundreds of shattered bottles of wine.
Copyright 2021 Bloomberg.
Topics California Catastrophe Natural Disasters Profit Loss Wildfire
Was this article valuable?
Here are more articles you may enjoy.