"It was all hands on deck."
That apt description of the reaction to the deadly outbreak of wildfires that ravaged California in October was from Stephen Poux, global head of risk management and loss prevention for AIG's private client group.
The carrier had several high net worth clients in the area who were affected by the siege that destroyed nearly 9,000 properties and killed 43, and as part of their service to those clients they had several personnel on the front lines of fires working to save what were likely very expensive properties.
AIG's private client group's wildfire protection unit had six fire mitigation battalions working the fires in Northern California. Each battalion included an engine that pumps fire-preventive material onto properties and staffing to handle the engines, according to Poux.
"The guys were very busy over the course of probably 11 or 12 days all told," Poux said. "We deployed resources from other parts of the state."
The carrier also used resources from neighboring states.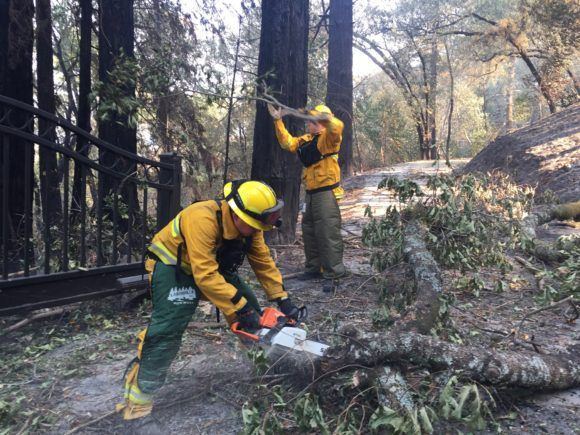 Poux said that while it's too early to offer loss estimates for AIG policyholders in the area, he could say that some of their clients' properties were totally destroyed, while others stood with the help of mitigation.
Aon Benfield's Impact Forecasting earlier this week said the wildfires may lead to as much as $8 billion in insured losses. Those estimates are in line with a forecast from RMS earlier this month, which estimates the insured loss for the wildfires impacting Sonoma, Napa, Solano, Lake and Mendocino counties will reach between $6 billion and $8 billion. The California Department of Insurance has already revealed that the state's largest insurers have so far reported more than $3.3 billion in insured losses from the wildfire siege.
Chubb was another insurer sending out teams to try and prevent high-dollar properties from being destroyed.
"We went to about 250 homes and we took active measures to protect more than half of them," said Fran O'Brien, division president of North America personal risk services for Chubb.
O'Brien said teams were deployed to look for fuel around homes and to remove combustible items, which included the obvious, such as wood piles, as well as combustibles that most homeowners weren't thinking about while fleeing for safety.
"One of the most flammable things that people have and leave when they've been evacuated is their patio furniture cushions," O'Brien said.
The Chubb mitigation teams also cleaned out gutters around homes, and covered vents when possible to prevent flying embers from getting into the home.
CAL Fire has blamed the fierce winds for driving embers beyond high threat areas into areas that were considered lower than normal wildfire threat and causing so much destruction.
Customers who purchase homeowners insurance through AIG's private client group are eligible to receive the services of the wildfire protection unit, which Poux described as a complimentary, value-added service to policyholders in specific geographic areas in the U.S. He said they provide the service in hundreds of ZIP codes where wildfire risk is high and there is a concentration of high net worth clients.
Chubb's similar service is also available in numerous high-risk areas, according to O'Brien.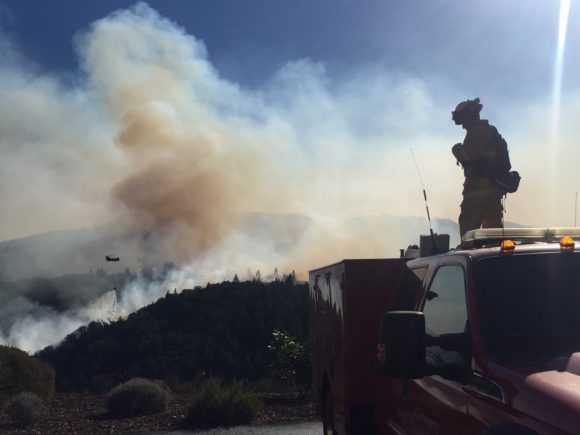 Chubb's fire mitigation teams also set up a water sources on properties, and wet down and sprinkled homes and landscapes to elevate humidity, and they treated unmanaged vegetation and some homes with a fire retardant when necessary, according to O'Brien.
"We had 14 engines working the fires in Northern California," she said, adding they had a total of 28 firefighters and three liaison officers.
She couldn't immediately say how many properties were saved out of the homes where active fire prevention measures were undertook.
"We haven't finished that work yet," O'Brien said.
Poux believes their mitigation efforts saved several properties in the early days of the fires because firefighters and emergency crews at the time were focused on evacuating people and saving lives, so dousing properties and preventing fires were not priorities.
"What we saw in the North Bay fires in particular is the speed at which some of the fires progressed, there was no time for fire departments to fight structure fires," Poux said.
Over the course of the fires the teams went to hundreds of homes, and took mitigation steps on many of them, he said, adding, "We came back days later and the fires had come right up to the lines of fire retardant that we had sprayed and had gone out."
Sometimes the work required to reduce the chance of a property going up was extensive.
In one scenario, Poux described a team showing up at home while the fire was cresting on a ridge a half-a-mile away and spending more than three hours with chainsaws, axes and rakes clearing brush and then laying down fire retardant.
In fact, clearing brush and fallen trees became a significant part of their job, which Poux said sometimes went beyond just mitigating fires for singular properties.
"They cleared the path not only for themselves to get to the property, but for the fire department if they needed to get to the property or other properties to combat structure fires," Poux said.
Related:
Was this article valuable?
Here are more articles you may enjoy.