The largest California insurers have so far reported more than $3.3 billion in insured losses from the October wildfire siege, now considered the most destructive fires in state history.
Insurance Commissioner Dave Jones on Tuesday updated insured loss claims data provided by 15 major insurers for residential and commercial claims resulting from the October wildfires that swept across the state killing 42 people and destroying more than 8,900 properties.
Jones and the California Department of Insurance on Oct. 18 reported insured loss numbers had exceeded $1 billion.
"In less than two weeks that number has increased more than threefold to more than $3.3 billion," Jones said.
The claims count compiled by the CDI from the fires so far is: 10,016 partial residential losses; 4,712 total residential losses; 728 partial and total commercial losses; 3,200 personal auto losses; 91 commercial vehicle losses; 153 agricultural equipment losses; 111 water craft losses.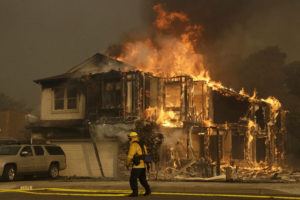 Catastrophe modeler RMS last week gave estimates that the insured loss for the wildfires impacting Sonoma, Napa, Solano, Lake and Mendocino counties will reach between $6 billion and $8 billion. RMS earlier this month estimated losses would range from $3 billion to $6 billion. At that point the fires had destroyed a reported 3,500 structures.
Roughly 8,900 properties were destroyed by the fires, according to CAL Fire.
Jones acknowledged that the insured losses will likely continue to rise.
"We can anticipate as more claims are filed and the claims amounts increase that these numbers will increase," Jones said.
The number of individual fires at the peak of the wildfire siege that started in early October reached 21, many of which were large and destructive. The Tubbs fire is now considered the most destructive fire in state history, having destroyed 5,400 structures. It far exceeded the damage done by the 1991 Oakland Hills fire, which was California's most damaging fire after having destroyed 2,900 structures.
The Nuns fire destroyed 1,300 structures, and the Atlas destroyed 930 structures.
CAL Fire and RMS have said the high number of affected properties was largely due to high winds driving flying embers into neighborhoods that were normally considered low risk.
Jones said the blame for the losses should also be placed at the feet of a changing climate that has "created a new normal," which California decisionmakers and policymakers must now take into consideration in planning going forward.
"We know that the climate is changing, we know that that the temperature is rising, we know that we are facing increased dry conditions in California and we know unfortunately that all of that taken together proses greater risk for people in California," Jones said.
Related:
Topics California Catastrophe Natural Disasters Claims Profit Loss Wildfire
Was this article valuable?
Here are more articles you may enjoy.