Rebuilding the Northern California areas devastated by wildfire will be a long-term effort, and insurers say they will be there to help their affected policyholders get back on their feet.
Tens of thousands of evacuees began making their way home Tuesday, nearly 10 days after the fires broke out in the middle of the night on Oct. 9.
But many won't have a home to return to, as multiple fires damaged or destroyed 7,000 structures across the state, with the majority of those in Napa and Santa Rosa, Calif.
Insurance Commissioner Dave Jones said Thursday that preliminary loss data from eight California insurers currently processing claims reflects $1.045 billion in losses to commercial and residential structures, personal and commercial vehicles, and agricultural equipment.
Four employees of George Petersen Agency lost their homes and 25 were evacuated from theirs while responding to policyholders.
"These numbers are just the beginning of the story as one of the deadliest and costliest wildfire catastrophes in California's history," said Jones.
Catastrophe modeler RMS early this week reported losses could reach up to $6 billion.
Sonoma County Sheriff Rob Giordano at a press conference at the Sonoma County Fairgrounds Wednesday said he had just flown over the county and saw the extent of the damage from the Tubbs Fire. (View aerial imagery of Tubbs Fire damage)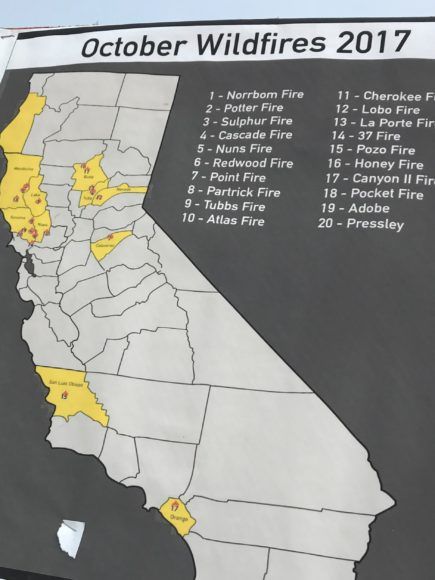 "I could not believe how much burn damage and how many houses have burned," he said. "We are going to be dealing with this for months and years in the county … This won't be over for some time."
As the region transitions from crisis response to recovery efforts, the insurance industry's work is just getting started. Carrier representatives began blanketing the fire-ravaged areas in the days following when the fires broke out, with some arriving within a matter of hours.
The office of Robb Daer, principal of George Petersen Insurance Agency in Santa Rosa, became ground zero for several companies in the days immediately following the Tubbs Fire. That fire, one of the largest burning in Northern California last week, exploded over the hill from nearby Calistoga and crossed a six lane stretch of California's 101 freeway in Northern Santa Rosa, taking out nearly everything in its path. It has since burned more than 36,000 acres.
Reps from multiple carriers, including Nationwide, Safeco, Liberty Mutual and The Hartford, descended upon the George Petersen Agency, where companies also sent policyholders to get funds if they had experienced a loss.
"It's just been overwhelmingly crazy," Daer said, who noted that four of his 70 agency employees lost their homes and 25 were displaced with evacuations, all while responding to policyholders.
The agency has eight locations across Northern California, and 10,000 personal and commercial policies in the Sonoma County area. Daer said that as of Oct. 19, they had run between 600 and 700 claims through their office, with an estimated $500 million paid out so far. The agency also set up a barbecue food area to feed people who came by, many of whom had gone days without power. Daer said they probably fed about 700-800 people over the course of a few days.
Carriers have been supportive and helpful, he said, and have assisted his office with getting information out to those not sure what to do next.
"This is an unprecedented time in our community and industry, and there is a complete sense of responsibility to help anybody who needs it. We are getting questions from hundreds of policyholders," he said.
Carriers Mobilized
Santa Rosa Mayor Chris Coursey said he saw carrier representatives answering peoples' questions at an evacuation shelter the first day it opened, regardless of whether they were policyholders or not. He said it is comforting for people to be able to immediately access those resources.
"I know that the industry is here in town and I'm grateful they responded quickly and in good numbers," he said.
Allstate Insurance Co.'s mobile response unit included two RVs and four smaller response vehicles and was ready to deploy 24 hours after the fire. Its first teams arrived in Santa Rosa on Oct. 11.
"They have had a steady stream of people visiting them, mostly with questions; they've been displaced from their homes and they're not sure what their policy covers," said Krista Conte, a field vice president for Allstate based in Rancho Cordova, Calif. "They are just looking for help. People get evacuated and they can't return home and they are scared and want to talk to someone who is going to tell you it's going to be OK, and that's what we've been doing."
Conte said the carrier also had 25 agents directly impacted from the fires in Santa Rosa and Napa. Conte said it was "striking" to see agency owners and staff who were impacted come together and help each other and their customers.
"It was really remarkable," she said. "When something like this happens in your community, you are impacted as well."
Conte worked on Allstate's cat response after Superstorm Sandy, which impacted most of the Northeast, and said the carrier's response to the California wildfires is definitely comparable to what took place after that event.
"It's a pretty intense showing. [This is] a relatively small area to have six [cat response] vehicles. It's about as significant an event as it gets," Conte said. She added they will be in the area "as long as it takes."
Phil Telgenhoff, also a field senior vice president for Allstate, said the severity of this situation isn't lost on the company.
"It's going to be a significant event for the industry," he said.
CSAA Insurance Group, an insurance affiliate of AAA and one of the top three homeowners insurers in California, had processed about 2,500 claims as of Oct. 18. The company's catastrophe response unit was set up at the Sonoma County Fairgrounds since the Tuesday after the firestorm erupted. Public Relations rep for the company Jason Willett said it has been a challenging experience for so many of the company's policyholders.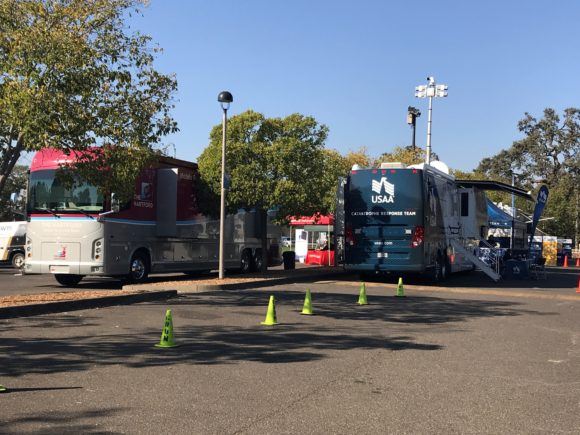 "This is probably one of the most significant disasters we've seen," he said.
Critical Role
The insurance industry's response and resources will be critical to the recovery of the wine country area, which is hugely supported by tourism and the winemaking industry.
"Insurance helps rebuild people's lives – that's what insurance is for, to help people get back on their feet, recover and move on with their lives," said Willet. "We and the rest of the industry are committed to making that as efficient a process as possible."
Officials in the area are also working furiously to ensure that rebuilding will begin quickly and efficiently.
"This is going to take a massive effort by everyone, but this is why we are in the business and this is why we are here," Allstate's Telgenhoff said. "This is a time where we deliver on a promise we make to our policyholders."
He added that resources will be challenged when it comes to rebuilding, but he is hopeful the construction industry can meet the demand.
"It's always a concern when you have a concentrated area where there's the kind of devastation we see here. People want to rebuild and return to their homes and sometimes the sequencing of events and the speed at which that occurs is not at the rate at which people expect," he said.
Congressman Mike Thompson, who represents parts of Sonoma and Napa County, said he expects the industry will rally to support its policyholders.
He added the industry will also be critical in preventing people from being taken advantage of, which can be a common occurrence following a major disaster.
"This isn't my first disaster and I have experienced no issues with the insurance industry in the past," he said. "The insurance industry will be needed to help people get through this, and I know they can do that."
Santa Rosa Mayor Coursey agreed the industry will be hugely important to the city's recovery.
"Nobody wants to be in a situation where they need their insurance company to step in and step up but when they are in that situation, it's critical," he said. "And failure of insurance to step up creates more victimization. I want to make sure we are all doing our part and I believe that the insurance industry is and will."
Outside View
Daer worries the scale of the devastation from these wildfires isn't realized by those outside the area, and warns the loss impact will be felt for years to come across the country.
"From my seat, it's almost this living, breathing thing. Things aren't slowing down but they are evolving; needs are evolving, questions are evolving and we haven't even been hit hard with business claims yet," he said. "It's going to take everybody being patient, kind, and just helpful."
He said it's crucial carriers continue to be there for policyholders long after the dust settles on this disaster.
"The biggest thing carriers can do is try to find ways to continue to work with their policyholders and stick with them. That's important," he said.
Related:
Topics Carriers Catastrophe California Natural Disasters Claims Wildfire Market Policyholder
Was this article valuable?
Here are more articles you may enjoy.