Moody's released a report on Monday assessing the impact of the wildfires in California on property/casualty insurers.
"Based on history and the number of structures damaged, insured losses will run into the billions of dollars, a credit negative," the report states. "These fires will be among the costliest wildfires on record for US P&C insurers, which were already hit by high third-quarter catastrophe losses from Hurricanes Harvey, Irma and Maria and the Mexico earthquakes."
The wildfires had caused 40 deaths, destroyed 5,700 homes and commercial structures and burnt more than 221,000 acres as of Saturday, according to Cal Fire.
Assuming an average value of $802,000 per structure, losses would be close to $4.6 billion and growing as the fires continue, according to the Moody's report.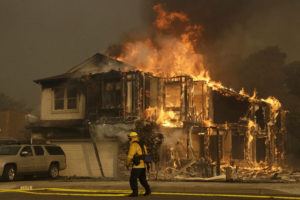 Modeler RMS late last week came out with an insured loss estimate of between $3 and $6 billion. CoreLogic estimates there are over 172,000 homes exposed to wildfire risk in the Napa and Santa Rosa metro areas, with a combined reconstruction cost of more than $65 billion.
Most of the damage will fall into homeowners and commercial property coverages, while there could be limited effect on other lines of business such as auto physical damage and inland marine, according to Moody's.
State Farm Mutual Insurance Co. last week announced it has already received roughly 1,400 homeowner and 850 auto insurance claims as a result of the fires.
California homeowners insurers could also be adversely affected by additional living expenses due to the massive ongoing evacuations, and some commercial property insurers are likely to pay business interruption claims.
California P/C insurers could also be hit by losses from properties insured by the California Fair Access to Insurance Requirements Plan, which insures a disproportionate share of property in remote locations and regions with high wildfire exposure, as each California insurer is required to participate in FAIR plan losses in direct proportion to its market shares, the Moody's report states.
Related:
Was this article valuable?
Here are more articles you may enjoy.