Most of the area within the massive Thomas fire in Southern California is at high or extreme wildfire risk, according to a Verisk report on Wednesday.
The fire encompasses more than 230,500 acres, and while containment on the wildfires in Southern California has increased, high winds could still push the fires back out of control, officials said.
Verisk, a source of information about property/casualty insurance risk, reported that 96 percent of the area within the Thomas fire perimeter falls in to the highest risk categories.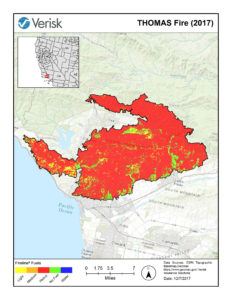 To date, the Thomas fire has destroyed more than 800 structures, damaged more than 180 others and still threatens roughly 18,000 structures.
Related:
Was this article valuable?
Here are more articles you may enjoy.