Insurance industry representatives said on Thursday they are working with the authors of pair of controversial bills approved by a committee in the California state Senate that are designed to give relief to victims of the massive wildfires last fall.
The contentious legislative package drew insurers into a battle on Wednesday with California Insurance Commissioner Dave Jones prior to the committee vote, prompting Jones to issue a statement that indicated he would be fighting with the insurance industry over their opposition to the bills.
Jones rallied with state Senators Mike McGuire, D-Healdsburg, and Bill Dodd, D-Napa, authors of the two bills, to oppose what he described as efforts by insurance lobbyists to "kill or water down" the legislative package.
A statement released by Jones' office on Wednesday ahead of the Senate Insurance Committee hearing said the industry was "pulling out all the stops to defeat our efforts to provide wildfire survivors and homeowners peace of mind when disaster strikes.
McGuire's Senate Bill 897 would require insurers to pay 80 percent of the limit of a policyholder's personal property coverage with no requirement for a written inventory. Dodd's Senate Bill 894 would allow policyholders to combine various coverages within their homeowner policy to pay any covered losses.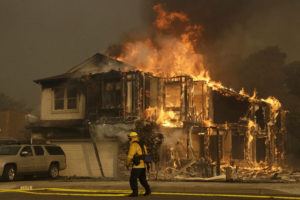 Using the limits for other coverages, as well as retroactive provisions in both bills, posed enough concern to bring the industry out to try and amend or oppose the legislation.
Objections to the bills were raised largely by the Rebuild with Resilience, a coalition of homeowners insurers in California comprised of property/casualty insurance trades including Property Casualty Insurers Association of America, Personal Insurance Federation of California, National Association of Mutual Insurance Companies and American Insurance Association.
Katie Pettibone, vice president of AIA's Western region, described a scenario if the provision on using limits for other coverages were to pass where a $1 million home that has additional contents coverage is destroyed. The provision could require insurers to use the contents coverage limits to add on top of the rebuilding cost of the home, she said.
She noted that policies and limits are underwritten to cover specific losses, so that provision on limits or the retroactive provisions, could mean insurers would see greater losses than they planned for.
"If you're changing policies and the way polices were underwritten, that is fundamentally a change in contract," Pettibone added.
Committee chair state Sen. Steve Glazer, D-Orinda, convinced the authors of the bills to agree to discuss the possibility of making amendments to those and other provisions in question before bringing the bills to the full Senate floor for a vote.
Following that, the committee unanimously voted in favor of the bills.
Pettibone said the coalition and other stakeholders are set to meet with the authors and their staff on Friday to discuss the legislation.
"We understand the travesty that the fires created, and we've been really trying to work hard with the authors on the measures," she said.
Spokespersons for Jones said on Thursday that there were no current plans to issue a statement from his office following the committee vote.
Related:
Was this article valuable?
Here are more articles you may enjoy.