A massive wildfire in rural Northern California has grown in size and has forced evacuations.
The fast-moving fire that started over the weekend northwest of Sacramento grew dramatically to about 150 square miles by Monday night.
State fire officials said 700 homes and other buildings were threatened but none had burned.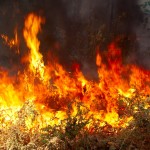 The fire that started Saturday spread as strong winds pushed smoke south, dusting cars and homes with a thin layer of grey ash. About 300 people were told to flee their homes. No injuries were reported.
The flames were chewing through tinder-dry grass, oak and brush in the hills outside of the tiny town of Guinda.
The hot, windy conditions fueling the fire is expected to persist through the end of July, fire officials said.
Copyright 2020 Associated Press. All rights reserved. This material may not be published, broadcast, rewritten or redistributed.
Was this article valuable?
Here are more articles you may enjoy.