An explosive wildfire closed down dozens of miles of a major California freeway only weeks after a nearby blaze that left neighborhoods in ruins and killed eight people.
The Delta Fire erupted Wednesday afternoon and within hours had devoured nearly 8 square miles of timber and brush on both sides of Interstate 5 near the Oregon state line.
The blaze was human-caused, fire officials said, but they didn't indicate whether it was arson or accident.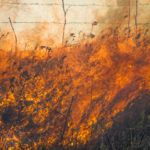 Truckers abandoned their vehicles as flames roared up hillsides. In a video, a passenger in a vehicle screams: "Oh my God, I want to go!" as trees burst into flames and sheets of fire roiled on the side of the roadway.
About 17 big-rigs were abandoned and at least four caught fire, Lt. Cmdr. Kyle Foster of the California Highway Patrol's Mount Shasta office told the Los Angeles Times.
U.S. Forest Service workers helped the driver of one flaming truck to safety and other truckers, firefighters and others aided other drivers, he said.
"There's vehicles scattered all over," Brandon Vaccaro with the California Department of Forestry and Fire Protection told the Redding Record Searchlight. "Whatever occurred here was probably pretty ugly for a while."
Copyright 2020 Associated Press. All rights reserved. This material may not be published, broadcast, rewritten or redistributed.
Was this article valuable?
Here are more articles you may enjoy.