A watchdog group has given California Insurance Commissioner Ricardo Lara until July 31 to produce public records related to meetings with insurance industry representatives who reportedly gave him $54,300 in campaign contributions.
Santa Monica, Calif.-based Consumer Watchdog on Thursday issued a statement responding to a refusal by the California Department of Insurance to provide Lara's calendar and other records reflecting his meetings with insurance company executives.
Consumer Watchdog, which sought the information in a Public Records Act request initially submitted in June, says it intends to file a lawsuit to compel production of the records if they are not produced by July 31.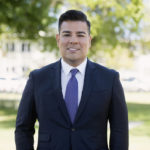 The request stems from an article in the San Diego Union-Tribune earlier this month that showed Lara received $54,300 in campaign donations for his 2022 reelection campaign from people linked to two insurance companies, Applied Underwriters and Independence Holding Co.
In some instances, Lara received large checks from the relatives of insurance industry executives with business pending before the commissioner, according to Consumer Watchdog.
Lara has since agreed to give the money back.
Byron Tucker, the deputy insurance commissioner and a CDI spokesman, acknowledged they have received the Consumer Watchdog request.
"We received the updated public record request, we are vetting it and we will respond appropriately," Bucker said.
Applied Underwriters and its California subsidiary, California Insurance Co., settled an enforcement action brought by the CDI for alleged "bait and switch" marketing tactics in 2017. Applied Underwriters and CIC are also currently undergoing a change in ownership that will require Commissioner Lara's approval.
The insurance industry contributions, as outlined by Consumer Watchdog, totaling $54,300 reportedly include:
$15,500 from Stephen Acunto, managing director of the Constitution Group, which wholly owns Constitution Insurance Co. and whose directorate interlocks with Applied Underwriters and California Insurance Company. Acunto is also a spokesperson for Applied Underwriters.
$15,500 from Carole Acunto, identified in campaign reports as the president of a production company and the wife of Stephen Acunto.
$15,500 from Theresa DeBarbrie, identified in campaign reports as an administrator at a nursery school. She is the wife of Carl DeBarbrie, an insurance broker for Applied Underwriters and former executive with Constitution Insurance Co. and California Insurance Co.
$7,800 from Darlene Graber, identified as a homemaker in campaign reports and the wife of Larry R. Graber, senior vice president and director of Independence Holding Co., which has multiple health insurance subsidiaries.
Topics California Underwriting Market
Was this article valuable?
Here are more articles you may enjoy.