Catastrophe modeler Karen Clark & Co. said privately insured losses in the U.S. from Hurricane Hilary will be near $600 million.
Once a Category 4 storm, Hurricane Hilary weakened to a tropical storm before it made landfall near Baja California on Aug. 20 with wind gusts of up to 65mph. It was the first storm to maintain tropical storm strength and impact California since Hurricane Nora in 1997, KCC reported. The last tropical storm to make landfall in California was El Cordonazo in 1939.
Hilary caused the National Hurricane Center to issue its first ever tropical storm warning for Southern California, which was hit with flooding rains that broke monthly and seasonal records.
KCC's estimate includes privately insured damages to residential, commercial, and industrial properties, as well as auto losses. The estimate does not include boats, offshore properties, or losses to the National Flood Insurance Program.
AccuWeather last week said its preliminary estimate of the total damage and economic loss from Tropical Storm Hilary in the U.S. was $7 billion to $9 billion.
According to AM Best, the top homeowners multiperil insurers in California are State Farm and Farmers. Each earlier this year announced they would limit new homeowners insurance policies in California.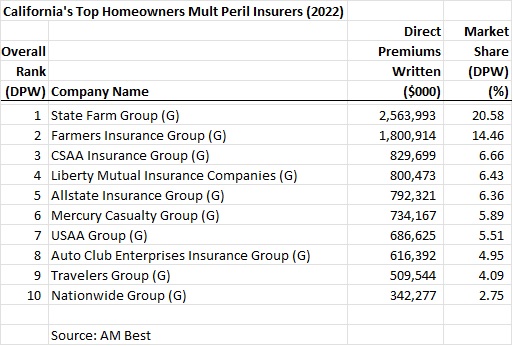 Topics California Profit Loss Windstorm
Was this article valuable?
Here are more articles you may enjoy.