National
AmWINS, The Flood Agency
Specialty insurance broker AmWINS Group has agreed to acquire The Flood Insurance Agency, a Florida-based managing general agency that specializes in private market flood insurance. The Flood Insurance Agency, operating as a program administrator for surplus lines carrier Lexington Insurance Co., provides access to a private market alternative to the government-run National Flood Insurance Program. Evan Hecht is founder and chief executive officer. According to the MGA, its program insures more than $4.5 billion of property in 37 states. More than 3,000 agencies are registered to use the program.
Generali Global, A. J. Gallagher
Generali Global Assistance has acquired Trip Mate from Arthur J. Gallagher. Trip Mate is incorporated in Kansas and domiciled in Missouri. It is licensed in all states. Its plans are underwritten by United States Fire Insurance Co., Nationwide Mutual Insurance Co. and Arch Insurance Co. GGA said Trip Mate will continue to trade under its current brand but is now under the umbrella of GGA companies in the U.S.
SunTrust, BB&T Corp.
SunTrust Banks and BB&T Corp. have agreed to merge in an all-stock merger of equals valued at approximately $66 billion. The combined company will be the sixth-largest U.S. bank based on assets and deposits. The pro forma company will have approximately $442 billion in assets, $301 billion in loans, and $324 billion in deposits serving more than 10 million households. The combined company will operate under a new name and brand. A new corporate headquarters will be established in Charlotte, N.C. BB&T shareholders will own approximately 57 percent and SunTrust shareholders will own approximately 43 percent of the combined company. BB&T Insurance Holdings, a wholly owned subsidiary of BB&T Corp., is the fifth largest insurance broker.
East
Solutions Insurance, Gloron Agency
Solutions Insurance & Financial Services of Fairfield, N.J., has joined personal and commercial lines insurance agency Gloron Agency Inc. of New York, N.Y. The headquarters for the newly combined firm will remain in Manhattan, and the Fairfield, N.J., office will continue to operate. Solutions President Jon Maizel brings 25 years of agency ownership to Gloron.
Hub, Rubin Group
Hub International Limited has acquired the assets of The Rubin Group Inc. President Michael Rubin, along with his team, will join Hub International Northeast. Headquartered in New York, N.Y., The Rubin Group specializes in real estate, retail, construction and transportation.
Hilb, Aloisio Associates, D'Camera Group
The Hilb Group has acquired Rhode Island-based Aloisio Insurance Associates, a property/casualty insurance agency located in North Providence. AIA and its associates will join THG's regional operations in New England following the acquisition.
The Hilb Group has also acquired D'Camera Group in Annapolis, Md., a property/casualty agency serving the Mid-Atlantic region. DG Agency President Dean D'Camera and his associates will join THG's Mid-Atlantic operations following the acquisition.
Kaplansky, KW Insurance
Kaplansky Insurance in Massachusetts has acquired KW Insurance, an agency with locations in Dedham and Cambridge, Mass. The KW Dedham location will merge with Kaplanky's corporate headquarters in Needham. The KW Cambridge location will continue to operate under the Kaplansky name. Kaplansky currently operates 13 locations throughout Massachusetts.
XPT Group, SVA Underwriting
XPT Group has acquired New York City-based SVA Underwriting Services, a trucking and transportation MGA and Lloyd's coverholder that specializes in physical damage and cargo cover. The firm was founded in 2013 by Steven Vallejo. SVA Underwriting will continue to operate under its established brand name. This is XPT's third investment preceded by Western Security Surplus and WE Love & Associates.
Ensurise, Reese, Yeatman
Independent insurance agency Ensurise has merged with the property/casualty insurance brokerage operations of Reese, Yeatman & Associates. Reese Yeatman will continue to operate as Reese Yeatman Insurance from its Bethesda, Md., location. Founded by Michael G. Reese Sr., Reese Yeatman is in its second generation of leadership under Michael Reese Jr. and Thomas Riley. Ensurise partners with insurance agencies in the Washington, D.C. area.
Ryan Specialty, Boston Specialists
Ryan Specialty Group has acquired the assets and operations of Boston Insurance Specialists, a wholesale insurance brokerage with offices in Mansfield and Westfield, Mass. The BIS team is now a part of R-T Specialty, the wholesale brokerage unit of RSG. BIS is a family-owned business led by founders Debbie Murphy and Peggy Giancola.
Midwest
Greenlight Capital Re, AccuRisk
Reinsurer Greenlight Capital Re is again investing in the Chicago-based managing general underwriter AccuRisk Solutions. Greenlight Re made an initial investment in AccuRisk in 2017. With the new investment, Greenlight is the largest shareholder in AccuRisk. The new investment will enable AccuRisk, which is focused on employee benefits, to expand through acquisitions.
Sichko Agency, Smith & Leavitt
Ohio-based David Sichko Agency has affiliated with Smith & Leavitt Insurance Services and will now do business as Leavitt Group Midwest-Smith, Molino & Sichko. The agency will continue to offer Nationwide products. The same personnel will continue to serve clients from the office in Columbus.
K2 Insurance, Mid-America Managers
K2 Insurance Services has acquired the assets and operations of Mid-America Risk Managers, a Nebraska-based farm and agricultural specialty general agency that is one of the largest program managers of coverage for Center Pivot Irrigation Sprinklers in the U.S. It underwrites on behalf of members of Great American, Travelers and Century. Paul Friskopp will continue as president of MARM going forward.
Kerry Besnia, formerly of Great American Insurance, has joined MARM to help facilitate future growth of this program. This acquisition complements other acquisitions in the agricultural industry by K2, a holding company in San Diego.
South Central
A.J. Gallagher, Interstate Insurance
Global insurance broker Arthur J. Gallagher has acquired Shreveport, Louisiana-based Interstate Insurance Underwriters. Founded in 1963, Interstate Insurance Underwriters is a managing general agency with a focus on general liability, property, garage and inland marine risks. Lawrence, Taylor and Logan Calhoun and their associates will remain in their current location as a satellite of Risk Placement's Covington, Louisiana, office, operating under the direction of Joel Stinson, head of RPS's South Central region.
A.J. Gallagher, Chapman Group
Global insurance broker Arthur J. Gallagher has acquired Baton Rouge, Louisiana-based The Chapman Group, an employee benefit consultant and retail property/casualty broker. Bill and Will Chapman and their associates will continue to operate from their current location under the direction of Robby White, head of Gallagher's South Central region, and Bumpy Triche, head of Gallagher's Mid-South region retail property/casualty brokerage operations.
Hub, US Insurance Source
Insurance broker Hub International has bought the assets of US Insurance Source and certain affiliates. Based in Spring, Texas, USIS is a commercial independent insurance agency specializing in trucking coverages. Mark Walton, owner of USIS, will join Hub Transportation and report to Jerry Gillikin, executive vice president of Hub Transportation.
Southeast
Marsh & McLennan, Bouchard Insurance
The middle market agency subsidiary of Marsh has agreed to acquire Clearwater, Fla.-based Bouchard Insurance, an independent agency in Florida. Bouchard has 260 colleagues in its Clearwater, Fort Myers, Kissimmee, Maitland, Sarasota, and Tampa, Florida offices. The firm specializes in agribusiness, community associations, construction, education, healthcare, hospitality, staffing and social services industries. Bouchard will maintain its office locations and operate as Bouchard Insurance, a Marsh & McLennan Agency company. Doug Bishop, who has served as CEO of Bouchard since 2009, will continue to lead the operation.
Hub, Fortenberry McNamara
Hub International has acquired a book of business from Fortenberry McNamara of Jackson, Miss., an affiliate of Executive Planning Group, an employee benefits consulting firm. William McNamara, one of the owners, will join Hub Gulf South. H. Larry Fortenberry will continue to operate Executive Planning Group's wealth management and individual insurance operations.
West
Alliant, Public Sector Pension Board
Newport Beach, Calif.-based Alliant Insurance Services Inc. announced that a Canadian pension investment manager has invested in the firm. The investment by the Public Sector Pension Investment Board is joined by an additional investment from funds managed by Stone Point Capital. Following the transaction, funds managed by Stone Point will remain Alliant's largest institutional shareholders while the company's management and producers will continue to own the majority of the firm. Alliant provides property/casualty and employee benefits products.
Was this article valuable?
Here are more articles you may enjoy.
From This Issue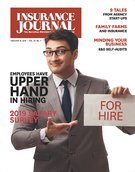 Agency Salary Survey Results; Markets: Marinas & Boat, Agribusiness / Farm & Ranch