This issue of Insurance Journal features exclusive results from the 2019 Young Agents Survey where young agents nationwide shared their views on the insurance industry and their experience as an agent (see page 30 for the full report).
This issue also highlights the unique personalities of young agents by asking them important questions, such as the color of their office, what they would be doing if they weren't an agent, and the stupidest thing they've ever done in their job. Don't miss it. (see page 24).
But most importantly, this year's report found once again that the vast majority of young agents are happy with their career choice and the industry. Year-after-year, they cite the freedom and challenges that come with the job of an independent agent as perks of the job. However, there are some things young agents would change about the insurance industry or their career if given the chance.
Here are two top 10 lists of what young agents like MOST and LEAST about being an independent insurance agent taken from the 2019 Young Agents Survey:
What I like the most about being an independent agent is the ability to help.
What Young Agents Like MOST
Freedom and flexibility of insurance sales, so many opportunities and products.
Relationships that you build along the way.
The security that comes with working within this industry.
Freedom of markets and client selection.
Helping people, making friends, problem solving.
Work/life balance.
I've met some of the brightest, most ambitious and kindest people in this career.
Great compensation.
What I like the most about being an independent agent is the ability to help.
The entrepreneurial aspect of running a business.
What Young Agents Like LEAST
The stress of constantly having to meet a sales goal.
Too much service work put on salespeople.
It seems dated.
Manual underwriting – the time and lag from submission to quoting.
Lack of control in the outcome of claims.
The "good ole boy" network.
What I like least is the pushback from the older generation in teaching us the ins and outs. Other than that, I enjoy being an agent.
Slow to change. Systems are slow. Hesitance in everything and the loyalty to the old, inefficient way.
Perception. I know I bring value to my prospects and clients, but it is sometimes difficult to overcome other people's perception of an insurance broker.
That people think I am too young.
Was this article valuable?
Here are more articles you may enjoy.
From This Issue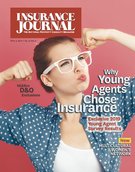 The Young Agents Issue – with Survey Results; Markets: Directors & Officers Liability