The surplus lines market continues to be the insurance industry's most dynamic sector. Despite softening market conditions, and more recently the subprime lending crisis, it continues to thrive. New products continue to be introduced, while older programs are updated. More players enter the market and consolidation continues.
In 2005, surplus lines accounted for $33.281 billion of direct written premium from a total industry market of $488.723 billion, according to A.M. Best's survey. Excess and surplus lines premiums for 2006 are expected to top $35 billion. The market is becoming more international, as Lloyd's insurers continue their United States invasion (see sidebar below), while Bermuda-based companies and some from even farther afield, notably Australia's QBE, continue to expand their presence.
The following is a snapshot of E&S mergers, acquisition, expansion and other activity since the beginning of the year. The events are organized by the month the news was reported by Insurance Journal, which may be different from the actual announcement or closing date.
January
Wholesale insurance broker Swett & Crawford acquired the assets of Oxbridge Insurance Associates Inc., of Morristown, N.J., its first venture since Aon Corp. sold the company in November 2005. Oxbridge is a P/C wholesale broker and managing general agent writing more than $75 million in specialty classes of business on a nationwide basis. Specialty lines include programs for the major professional sports leagues and an exclusive nationwide crane facility.
Missouri-based Stuckey & Co., a specialty insurance program manager with more than 8,000 independent insurance agents, added Century Insurance Group to their list of carriers. Century primarily writes excess and surplus lines general liability and commercial property for small and mid-sized businesses.
February
Bliss and Glennon Inc., managing general agent and surplus lines broker, opened a new regional office in Lynnwood, Wash. The company writes business and places risks throughout the western region.
M.J. Hall & Co. of Stockton, Calif. acquired the Walnut Creek, Calif.-based Cravens, Leffler & McCormick's book of insurance business in an asset purchase. Hall is a wholesale P/C brokerage firm and represents more than 40 markets in the surplus lines or admitted specialty end of the insurance business.
All Risks Ltd., a national wholesale broker and managing general agent headquartered in Hunt Valley, Md., opened its sixteenth branch office in Orlando, Fla.
Insurance broker Appalachian Underwriters plans to double its Knoxville-Oak Ridge Innovation Valley, Tenn., presence to more than 300 people over the next three years, as part of its headquarters expansion.
BISYS Commercial Insurance Services, a provider of commercial P/C insurance solutions, acquired Truckwriters Inc., an Atlanta based managing general agency owned by and writing business with Zurich Programs, a business unit of Zurich North America Commercial.
Woodbridge, N.J.-based The Marquis Agency, a subsidiary of the NIP Group, acquired the assets of Thomas J Sharp & Associates. The transaction will expand Marquis' National Professional Services Practice by adding Sharp's team of brokers and risk managers focused on the design industry.
Arthur J. Gallagher acquired InterNational Insurance Group Ltd. of Boston, Mass., a provider of risk management and P/C insurance services for commercial clients in the Northeast. The agency also specializes in life sciences, hospitality and environmental products and services.
March
Flexpoint Partners LLC acquired a majority interest in Rosemont, Pa.-based Norwich Group Inc. and its affiliated companies via a newly formed holding company. Norwich develops, implements and administers commercial insurance products targeted to narrowly defined industry segments.
Specialty Underwriters' Alliance Inc., through its subsidiary SUA Insurance Co., announced a new partner agent agreement with Flying Eagle Insurance Services Inc. to market and underwrite commercial general liability programs to the underserved construction segment, including the roofing trade in the Midwest region.
Atlantic Risk Specialists of New Jersey opened a Sarasota, Fla., branch office to handle the placement and negotiation of professional lines insurance.
Travelers Oil & Gas launched an emergency response planning guide for managing well blowouts that occur on U.S. oil and gas land drilling operations.
Arrowhead Wholesale Insurance Services LLC added a market for mid-size to larger multi-family and commercial real estate accounts. Minimum $10 million total insured value of buildings per account (all locations) with capacity up to $400 million per location.
All Risks Ltd., a wholesale broker and managing general agent headquartered in Hunt Valley, Md., opened a branch office in Seattle, which will handle contract binding and brokerage business and is expected to expand the company's capabilities in the Pacific Northwest.
Lodi, Calif.-based Continental Risk Insurance Services, finalized negotiations to add a new carrier for in-house binding authority for P/C risks.
April
The Hartford Financial Services Group Inc. announced that its First State Management Group has formed a strategic relationship with certain members of the Berkshire Hathaway group of insurance companies to offer expanded levels of surplus lines commercial property insurance. Underwriting Manager First State will leverage the capacity of The Hartford's subsidiary surplus lines insurance companies with capacity from the Berkshire Hathaway Group's National Fire & Marine Insurance Co., National Indemnity Co. and National Indemnity Co. of the South.
Meadowbrook Insurance Group Inc. agreed to acquire Cleveland, Ohio-based U.S. Specialty Underwriters Inc. for a purchase price of $23 million. USSU is a specialty program manager that produces fee-based income by underwriting excess workers' compensation coverage for a select group of insurance companies.
Monarch E&S Insurance Services, based in La Crescenta, Calif., expanded its operations by establishing a dedicated professional lines department from it's Simi Valley, Calif., location.
May
Max Specialty Insurance Co., based in Richmond, Va., became an eligible surplus lines carrier in 45 states, with the recent addition of New York, North Carolina and Kansas. The Bermuda-based Max Capital Group Ltd. (formerly Max Re Capital,) through its operating subsidiaries, provides specialty insurance and reinsurance products to corporations, public entities, P/C insurers and life and health insurers.
THI Holdings (Delaware) Inc., a Nationwide company, acquired Anaheim Hills, Calif.-based Eastwood Insurance Services Inc., through one of its agency subsidiaries. Eastwood operates 47 multi-line agencies in California, Texas, Florida, Arizona and Nevada.
Western National Insurance Group announced plans to launch a new P/C insurance company with a focus on specialty lines of business. The group currently has a wholly-owned company shell, Pioneer Insurance Co., which will be renamed Pioneer Specialty Insurance Company and, after appropriate capitalization, will commence writing selected classes of commercial business in the first quarter of 2008.
Bermuda-based Ironshore Insurance Ltd. received approval to write property, property catastrophe and casualty insurance on an excess and surplus basis for risks in Florida. It also received approval to provide P/C catastrophe insurance on an excess and surplus basis for risks located in South Carolina.
Hilb Rogal & Hobbs acquired the operating assets of Global Special Risks LLC, an excess and surplus lines wholesale broker and managing general agency specializing in the energy and non-marine property fields with offices in Houston and New Orleans.
June
Global investment manager D.E. Shaw Group organized a Bermuda-based holding company to acquire James River Group Inc., a North Carolina-based excess and surplus and workers' compensation insurer, in a transaction valued at approximately $575 million.
The Hanover Insurance Group agreed to acquire professional liability insurer, Michigan-based Professionals Direct Inc., for $23.2 million.
Alliant Insurance Services Inc., one of the nation's largest insurance brokerage firms, announced that The Blackstone Group, in partnership with Alliant's management and employees, has reached an agreement to acquire the company from its current owners comprised of the investment firm Lindsay Goldberg and Alliant's management and employees.
The acquisition of all common shares of Hub International Limited by funds advised by Apax Partners together with Morgan Stanley Principal Investments is completed. As a result of the acquisition, Hub's common shares will cease trading on the New York Stock Exchange and the Toronto Stock Exchange.
AmWINS Group acquired The American Equity Underwriters Inc. (AEU), a national provider of insurance programs for maritime employers with a special expertise in United States Longshore and Harbor Workers Compensation (USL&H) insurance.
July
Tri-City Brokerage, a division of BISYS Commercial Insurance Services Inc., launched its environmental insurance practice, Tri-City Environmental. The new division will focus on providing risk solutions to address liabilities associated with the discovery and cleanup of known and unknown contamination that may occur in a myriad of industries including manufacturing, construction, real estate and Brownfield redevelopment.
San Antonio-based Southwest Business Corporation formed a Bermuda reinsurance company, SWBC RE Ltd., to take advantage of the island's reinsurance facilities.
Dallas-based insurer Republic Companies Inc. acquired Southern States General Agency Inc. (SSGA) from Unitrin Inc. SSGA provides specialty commercial and personal lines P/C insurance products through independent insurance agents in Louisiana, Arkansas, Texas and Mississippi.
Mich.-based North Pointe Holdings Corp. closed its acquisition of Capital City Holding Company Inc. The transaction included the purchase of a P/C insurance holding company located in South Carolina, as well as, Davis-Garvin Holdings Inc., Capital Excess & Surplus Brokers Inc., Southeastern Claims Services Inc., Safeco Products Inc. and certain affiliates.
Southwest Marine and General Insurance Co., an affiliate of NYMAGIC Inc., is approved by the Excess Lines Association of New York (ELANY) to write surplus lines business in the state.
U.S. Risk Insurance Group Inc., a managing general agency and surplus lines wholesaler headquartered in Dallas, expanded into New England by acquiring Boston Insurance Brokerage Inc., a wholesale P/C broker with a production base of more than 800 producers and estimated premiums of $40 million.
August
Hub International Limited acquired the New York risk management firm, Jacobs & Jacobs Inc. (J&J) to become part of HUB Northeast, expanding its presence in the Long Island, New York area.
National insurance broker NSM Insurance Group of Conshohocken, Pa. acquired Brandon, Fla.-based Target Insurance Group, program administrator of the Express Hotel Motel Program.
Hub International Ltd. agreed to acquire all of the stock of The Rigg Group Inc., one of the largest Texas-based insurance brokers. The acquisition includes The Rigg Group's subsidiaries Wm. Rigg Co., a retail insurance brokerage; Rigg Insurance Managers Inc., known as RISC Inc., a wholesale insurance brokerage; and Rigg Life Agency Inc., which does business as Rigg Benefits & Financial Services, a life and benefits brokerage.
Shand Morahan & Company Inc., a Markel Corp. subsidiary, acquired Cambridge Alliance, which will place business with the Evanston Insurance Co. in all states except Illinois and New Hampshire, where business will be placed with the Essex Insurance Co.
A Brown & Brown subsidiary acquired the assets of The Combined Group Cos., of Carrollton, Texas. The acquisition includes Group affiliates: The Combined Group Inc., CIA Managing General Agency Inc., Combined Independent Agencies Inc., Combined Premium Finance Inc., Anchor Claims Management Inc., Anchor Risk Management Services Inc., Case Integration Administrators Inc., Quote Express Inc. f/k/a Combined Independent Agencies of Texas Inc. and Quantum Integrated Systems Inc.
September (partial)
Endurance Specialty Holdings Ltd., a Bermuda-based provider of P/C insurance and reinsurance, reported that one of its U.S. based holding companies is buying out ARMtech Insurance Services Inc. and its affiliates. ARMtech is the fifth largest underwriter of U.S. federally sponsored crop insurance, with $410 million in total premiums in 2007.
Insurance holding company W. R. Berkley Corp., based in Greenwich, Conn., is acquiring CGH Insurance Group, the owner of Alabama-based American Mining Insurance Co.
Hull & Co. Inc. acquired two Bollinger subsidiaries, Market Solution Managers Inc., of New York, and Princeton Risk Managers Inc., of Princeton, N.J., with combined annualized net revenues of approximately $1.6 million. They provide excess and surplus lines insurance primarily in the northeastern United States.
From This Issue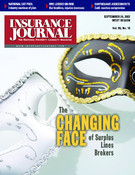 Salute to Surplus Lines Brokers/NAPSLO; Personal Lines Markets; Product Liability