The following markets were selected from the MyNewMarkets database of 25,000 coverages and programs. To find additional markets, or to submit markets, go to www.MyNewMarkets.com.
Background Screeners
Market Detail: Brownyard Programs Ltd., provides specialty insurance (GL + E&O) programs for: security guard companies, alarm companies, detective agencies, private investigators, background screening companies and armored car companies.
Available limits: Minimum $1 million.
Carrier: Executive Risk & Lexington.
States: All.
Contact: Helen Henner at 631-581-9300 ext. 111 or e-mail: helen@brownyardprograms.com.
Welding Supply, Gas Distributors
Market Detail: The Horton Group/Buschbach Division's The Welding Distributors Partnering Group (WDPG) offers property, inland marine, crime, general liability, auto, workers' compensation and umbrella coverage. Auto includes MCS-90, broad form pollution and filings where required. The program includes escaped gas and hostile fire coverage for GL, AD&D (in some states), GL enhancement endorsement, additional insured by contract, aggregate limits per location and recently introduced limited welding fume coverage. Completed ACORD apps, current year plus three prior years loss information and MVRs.
Available limits: As needed.
Carrier: Chartis.
States: All.
Contact: Ken Tidwell at 800-598-9099 or e-mail: kentidwell@wdpginsurance.com.
In-Store Clinic Coverage
Market Detail: U.S. Risk Insurance Group has a new program called QuickClinic which provides coverage for in-store non-emergency clinics in Walmart, CVS and other retail pharmacy stores.
Available limits: As needed.
Carrier: Unable to disclose.
States: All.
Contact: JoAnn Taylor at 214-265-2486 or e-mail: joann@usrisk.com.
Community Associations, Co-ops
Market Detail: Ian H. Graham Insurance provides coverage through CNA for the community association industry. Simplified the process of renewing and submitting business. Rapid renewal quotes. On verification, the one page document is signed, dated and faxed back. Upon receipt of request to bind, policy and invoice are sent. Actual policy issued in-house.
Available limits: As needed.
Carrier: CNA.
States: All states.
Contact: Sylvia Tagle at 800-621-2324 or e-mail info@ihginsurance.com.
From This Issue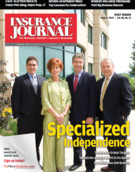 Umbrellas – Personal & Commercial; Construction; Apartment Buildings