RSI International, Insurance Network
Texas-based RSI International Inc. has acquired Insurance Network Corp. (INC), a managing general agency based in Dallas, Texas.
Established in 1996, Insurance Network Corp. specializes in securing property/casualty coverage for Texas-based retail agents.
Jim Chippendale and his staff will join RSI at its corporate headquarters in Arlington, Texas. He will work directly with RSI CEO Colin W. Rainey, and Paul W. Rainey, president, to transition and grow INC's current book of business.
RSI International is a privately owned managing general agency and wholesale broker with offices in both Arlington, Texas, and St. Louis, Mo. RSI is currently celebrating its 24th year of service in Texas.
Insurance Connection
Insurance Connection USA, an independent insurance agency based in Denton, Texas, has expanded its insurance lines to include home and auto insurance coverage. Previously, the firm only offered health and life insurance products.
Kathy Glasschroeder is Insurance Connection's new property/casualty specialist. Travelers, Progressive, MetLife Auto, Safeco, Hallmark and The Hartford are some of the new auto and home insurers providing products offered by the agency.
Insurance Connection also is a new member of Independent Insurance Agents of America. The organization's Trusted Choice agencies are insurance and financial services firms whose access to multiple companies and commitment to quality service enables them to offer clients competitive pricing and a broad choice of products.
Aon, Hewitt Associates
Aon Corp. has agreed to buy human resource consulting firm Hewitt Associates in a deal worth $4.9 billion.
Aon intends to integrate Hewitt with its existing consulting and outsourcing operations, Aon Consulting, and operate the segment globally under the newly created Aon Hewitt brand.
Russ Fradin, chairman and chief executive officer of Hewitt, will serve as chairman and chief executive officer of Aon Hewitt, reporting to Greg Case, chief executive officer, Aon Corp.
The aggregate consideration is valued at $50 per Hewitt share, which represents a 41 premium to Hewitt's closing stock price on July 9, 2010, the last trading day prior to the announcement of the agreement. The aggregate fully diluted equity value of the transaction is approximately $4.9 billion, consisting of 50 percent cash and 50 percent Aon stock (based on the closing price of Aon common stock on July 9, 2010).
Hewitt is one of the world's largest HR consulting and outsourcing companies, with more than 3,000 clients in three primary business lines: consulting, benefits outsourcing and HR business process outsourcing.
Aon said it believes the combination of Aon and Hewitt creates a global leader in human capital solutions, benefiting clients, associates and stockholders in several ways. The combined Aon Hewitt will have revenues of $4.3 billion and 29,000 associates globally. Combined revenues for fiscal year 2009 consist of 49 percent from consulting services, 40 percent from benefits outsourcing and 11 percent from HR business process outsourcing.
Hanover Group, ICW Group
Worcester, Mass.-based The Hanover Insurance Group Inc. has closed on an agreement with ICW Group that is designed to enhance The Hanover's surety capabilities in the West, including Arizona, California, Colorado, Oregon, Texas and Washington.
Through the arrangement, The Hanover has hired 20 specialized ICW Group surety underwriters and field support staff, enabling the company to build its market presence and field capability in its western expansion states, while helping its agent partners grow their businesses. At the same time, The Hanover expects it will gain access to a quality book of surety business delivered through approximately 100 independent agents. Initially, The Hanover expects to write as much as $15 million of ICW Group contract surety business as a result of the agreement.
"As always, we will be very strategic and selective about where we pursue new agency appointments and deeper partnerships. Our goal is to offer our agent partners real franchise value, so they can deliver the full complement of our distinctive products and services in their local markets," said Frederick H. Eppinger, CEO of The Hanover Insurance Group.
ICW Group is a privately held super regional property/casualty insurance organization whose underwriting operations target workers' compensation, non-standard private passenger auto, and earthquake insurance. The agreement with The Hanover aligns with ICW Group's strategy to more singularly focus its people, technology, and resources on its core businesses. The transaction also represents an opportunity for ICW to streamline its operations and transition its surety line to a larger surety carrier.
"This investment is the latest of many we have made during the past several months to build out our commercial lines capability in the West," said Mary Jeanne Anderson, president, Hanover Surety.
Ryan Specialty, Chartwell Independent
R-T Specialty LLC, the wholesale brokerage unit of Ryan Specialty Group LLC based in Chicago, has acquired Los Angeles-based Chartwell Independent Insurance Brokers LLC.
Chartwell, founded in September 2004 by Ben Beazley, is a national wholesale/intermediary organization with expertise in tough-to-place property accounts. In recent years, Chartwell expanded its operations to include binding authorities and programs to complement its property/casualty capabilities.
Patrick Ryan, the founder and retired chairman and CEO of the world's largest insurance broker, Aon, launched Ryan Specialty Group (RSG) in February 2010 to offer specialty services to insurance brokers, agents and carriers. The company currently has three subsidiaries – ThinkRisk, Ryan Specialty (Europe) Ltd., and R-T Specialty (RTS) in the United States and the United Kingdom.
From This Issue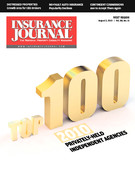 Top 100 Retail Agencies; Homeowners & Condos; Autos