Mid-Tech
The Hanover Insurance Group added products for more than 125 classes of technology businesses. The coverages include a customized commercial package policy for mid-sized companies and two stand-alone errors and omissions policy options. The company also has built a team of technology experts with years of experience in the industry.
Marijuana Raids
Medical marijuana dispensary owners, even when they are doing everything right, still face the potential that their stores might be raided by state and city agencies. MMD Insurance Services offers an endorsement that reimburses the legal costs in the event of a raid if the owner is found to be not guilty.
Cost Drivers
A number of states including California, Washington, Nevada, New Jersey and New York either already allow or are considering allowing insurers to offer usage-based or "pay-as-you-drive" auto insurance. After piloting it in 32 states, Progressive has begun national advertising for its program, Snapshot, which offers drivers discounts of as much as 30 percent based on real-time analysis of their driving habits.
Personal Guarantee
A new type of insurance called personal guarantee insurance from Burns & Wilcox and Asterisk Financial offers peace of mind for business owners who have to put up personal assets, such as their home, in order to get a loan.
Space Risk
Ironshore's aviation division has entered a treaty reinsurance program with the Starr Group to provide protection against commercial satellite risk. The global space insurance program provides coverages for satellite Launch Insurance and In-Orbit Insurance underwritten through Starr Space.
Titling Art
Incidents involving alleged stolen artwork have sparked a new wave of interest in art title insurance, which protects owners of artwork from financial loss resulting from a challenge to the good title to artworks bought, inherited or gifted in good faith. The hard-to-find coverage can be obtained from Hiscox and ARIS Tile Insurance Corp.
Amen
Hiscox has a coverage for houses of worship within the U.S. and abroad with no country exclusions that includes coverage for expenses incurred in responding to acts of violence that may result in death or serious injury to personnel and parishioners. The policy also reimburses expenses related to threats of violence, extortion and kidnapping.
Victor O. Schinnerer & Co. has a kidnap and ransom program for houses of worship. Insured persons can include directors, officers, employees, volunteers, mission attendees, students, chaperones, consultants and independent contractors.
The Hanover has expanded its Religious Institutions Advantage program. It now includes broadcast and telecasting liability and employment practices liability and teachers professional liability.
Topics Church
Was this article valuable?
Here are more articles you may enjoy.
From This Issue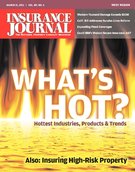 HOT New Markets & Programs, High Risk Property, Corporate Profiles, 2010 Mergers & Acquisitions Summary Report