Wanted: State Insurance Director. Must supply your own parka.
Linda Hall, director of Alaska's Division of Insurance, is retiring after nine years on the job, and the state has launched a nationwide search for her replacement.
Besides working in a place of extended darkness and chilly temperatures during the winter, the director post is a job that likely requires a person who can thrive in the state's independent environment and add a personal touch.
Hall often answers her own phone, and if she can't return a call, she personally sees that a call is returned, from consumers and businesses, she says.
Even in a small state with a population of just over 700,000, that's impressive.
"We're looking for a clone of Linda," said Curtis Thayer, deputy commissioner of Alaska's Department of Commerce, Community and Economic Development.
The insurance department falls under the purview of Thayer and Commissioner Susan K. Bell, who have started a search in Alaska that will soon reach around the nation.
"We realize this is going to have to be not only a statewide search, but most likely a nationwide search to find a candidate who can step into her shoes," Thayer said. "We are soliciting resumes nationwide."
As Thayer discussed the search, he was preparing to personally make a trip to the National Association of Insurance Commissioners spring meeting in New Orleans at the beginning of March to talk with potential candidates for the office, which is appointed by the governor.
"The goal is to have a list of candidates to (Gov. Sean Parnell) fairly shortly, maybe 35 to 45 days," Thayer said.
And the hope is also to have the new insurance director able to work with Hall during a training period, "and maybe walk with her around Legislature, which adjourns on April 15," Thayer said.
So what sort of qualifications must Alaska's new director of insurance have?
"First and foremost we want them to have an insurance background," Thayer said.
Actually, prior to Hall, who was a commercial broker for 18 years, that wasn't a job requirement.
"Since Linda's been in the position, it's been clear to everybody that that's a key component to this," he said.
Other attributes of the new director may be determined in part by Hall, who has offered to help in the search.
The new director will also have to be comfortable traveling back and forth between Anchorage and Juneau, overseeing 51 employees, and will be likely to follow up on implementing aspects of the 63-page HB 164, which Hall pushed through Legislature last year. The complex bill cleans up several of the state's insurance statutes.
The job, Thayer said, pays about $110,000 a year, "give or take."
While Thayer and Hall try to discourage the stereotype that "there are igloos in Alaska" – neither Thayer nor Hall, an 18-year Alaskan resident, have seen one in the state – they both agree that during winter months at least the successful candidate has to have a bit of a hardy side.
The coldest day Hall could remember was 25 below zero Fahrenheit. But that's not so bad, she noted, because on that day she decided to take the day off.
Alaska Fun Facts
In case you are interested in applying for Alaska's director of insurance opening, here's a few facts on the state. Alaska by the numbers
Population: 722,718
Housing units: 306,967
Homeownership rate: 64.7 percent
Median income: $66,521 (U.S. Median is $51,914)
Total number of firms: 68,728
Land area: 570,640 square miles
Persons per square mile: 1.2 (U.S. average is 87.4)
Source: U.S. Census Bureau. Figures are latest from Census, but vary from 2007 to 2011.
Was this article valuable?
Here are more articles you may enjoy.
From This Issue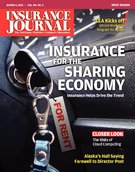 Hospitality Risks Directory; Homeowners & Auto; Technology & New Media Risks