Firefighters say wildfires have scorched hundreds of acres in western Oklahoma, damaging fences and equipment but causing no injuries.
Capt. Forrest Valentine of the Clinton Fire Department said firefighters battled two large wildfires in the afternoon on Jan. 27, including one north of Clinton that scorched about 975 acres in Custer County.
Valentine says about 20 structures were threatened by flames but none were damaged. He says some agricultural equipment and supplies were damaged in the wildfire.
A second wildfire located two miles east of Clinton and south of Interstate 40 scorched about 600 acres. Valentine says officials managed to move livestock grazing in the area to safety.
The National Weather Service says the combination of dry air, windy conditions and warm temperatures will likely persist, creating critical wildfire conditions across western Oklahoma.
As of Jan. 30, a red flag warning was in effect for counties along and west of a line from Osage County to Cotton County excluding the western Panhandle, according to an Oklahoma Forestry Services' wildfire report.
The forest service predicted that critical fire weather would continue across western, central and northern Oklahoma with warm dry and very windy conditions accelerating the rates of fire spread.
Very dry conditions were also expected to develop in eastern Oklahoma, but lighter winds would likely limit rate of fire spread, the forest service said.
From This Issue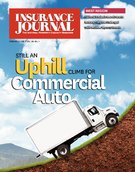 2017 Agency Mergers & Acquisitions Report; Markets: Nonprofits, Garage & Repair