Most eyeballs were on California during the midterm elections in November, with polar opposite candidates facing off in the race for governor as well as the office of insurance commissioner.
As in most years, Democrats carried the day in a state that's traditionally heavily painted blue.
Democrat Gavin Newsom defeated businessman John Cox in a race in which left-leaning Newsom promised to not only continue the legacy of departing Democratic Gov. Jerry Brown but likely bring a more liberal bent to office.
In the race for insurance commissioner, state Sen. Ricardo Lara defeated former insurance commissioner Steve Poizner.
Lara, the son immigrants from Mexico, campaigned on universal healthcare. The Republican-turned-independent Poizner had said he would focus on making sure homeowners have adequate protection against wildfires and other natural disasters. He promised a crackdown on insurance fraud and wants to develop better insurance policies against cybercrime.
The outlook for this year is to expect more laws and regulations that insurance professionals should pay attention to.
There was no shortage of legislation that arose from the 2017 wildfires, and the state could see more new laws and regulations stemming from the record-breaking 2018 wildfires.
"There should be no lack of challenges with continuing concern relative to homeowners insurance and fire settlement, as well as Inverse Condemnation," noted John Norwood, an industry lobbyist with Norwood & Associates.
A possible key change in California could center on altering how state courts have interpreted what is known as "inverse condemnation" as it applies to wildfires under which utilities can be held liable for damages caused by wildfires linked to their own equipment, even if the companies followed accepted safety procedures.
Utility PG&E has been under intense scrutiny over whether its equipment sparked the blaze, which killed 86 people and caused billions-of-dollars in damage. No cause has been determined.
PG&E Corp. revealed in mid-December that on the day California's deadliest and most destructive wildfire started, its workers saw damage and a fire near one of its transmission towers, which are the focus of investigations and a lawsuit as a possible ignition point.
The "Dynamex decision" is another matter that Norwood said the insurance community in California should take note of.
The California Supreme Court earlier this year issued a landmark decision in Dynamex Operations West Inc. v. Superior Court of Los Angeles. The court in its decision rejected the standard Borello test for determining whether workers should be classified as employees or independent contractors and embraced a standard presuming that all workers are employees instead of contractors. It also placed the burden on any entity classifying an individual as an independent contractor of establishing the classification is proper under a new "ABC test."
One thing Norwood doesn't expect in California going forward for the next year and beyond is a business-friendly environment.
Alaska
Governor: Mike Dunleavy, R, elected 2018.
Insurance committees: House Finance; Senate Finance
Insurance commissioner: Lori Wing-Heier, appointed 2014. Has 30 years of insurance experience including as an agent.
Arizona
Governor: Doug Ducey, R, won election 2018.
Insurance committees: House Banking and Insurance; Senate Finance
Insurance commissioner: Keith Schraad (R), appointed 2018. Executive experience in tech, insurance, government.
California
Governor: Gavin Newsom, D, won election 2018.
Insurance committees: Senate Standing Committee; Assembly Insurance.
Insurance commissioner: Ricardo Lara (D), elected 2018. Served in the state Senate since 2012.
Colorado
Governor: Jared Polis, D, elected in 2018.
Insurance committees: House Business Affairs and Labor; Senate Business Labor and Technology.
Insurance commissioner: Michael Conway (D), appointed 2018. Was deputy commissioner and assistant AG.
Hawaii
Governor: David Ige, D, elected 2018.
Insurance committees: House Intrastate Commerce; Senate Committee on Commerce, Consumer Protection, Health.
Insurance commissioner: Gordon Ito (D), appointed 2010. Was chief deputy commissioner and staff attorney.
Idaho
Governor: Brad Little, R, elected 2018.
Insurance committees: Senate Finance; House Business
Insurance commissioner: Dean Cameron (R), appointed 2015. Served in state Senate; former insurance salesman.
Montana
Governor: Steve Bullock, R, elected 2013.
Insurance committees: Finance
Insurance commissioner: Matt Rosendale (R), elected 2016. Worked in real estate.
New Mexico
Governor: Michelle Lujan Grisham, D, won election 2018.
Insurance committees: House Business & Industry; Senate Finance
Insurance commissioner: John Franchini, appointed 2010. Previously owned insurance agency.
Nevada
Governor: Steve Sisolak, D, elected 2018.
Insurance committees: Assembly Commerce and Labor; Senate Commerce, Labor and Energy.
Insurance commissioner: Barbara Richardson (D), appointed 2016. Had been N.H. insurance department's director of operations and fraud.
Oregon
Governor: Kate Brown, R, elected 2018.
Insurance committees: House Business and Labor; Senate Business and Transportation.
Insurance commissioner: Andrew Stolfi, appointed 2018. Was International Association of Insurance Supervisors operating officer and chief counsel.
Utah
Governor: Gary Herbert, R, elected 2009.
Insurance committees: House Business and Labor; Senate Business and Labor
Insurance commissioner: Todd Kiser (R), appointed 2013. Was in state Legislature. Founded insurance agency.
Washington
Governor: Jay Inslee, D, elected 2012.
Insurance committees: House Business & Financial Services; Senate Financial Institutions & Insurance
Insurance commissioner: Mike Kreidler, D, elected 2000. Longest serving insurance commissioner. Was in Congress, before that an optometrist.
Wyoming
Governor: Mark Gordon, R, elected 2018.
Insurance committees: Minerals, Business & Economic Development.
Insurance commissioner: Tom Glause, appointed 2015. Was with State Board of Equalization, a prosecutor and private practice lawyer.
"With Democrats controlling more than two-thirds of the Legislature and all of the state constitutional offices, things will not be easy," he said.
In other Western U.S. states both the predominantly red states of Alaska and Arizona saw Republicans win races for governor. Arizona saw a new insurance commissioner in early 2018 with the appointment of Republican Keith Schraad by Gov. Doug Ducey, who himself won reelection in November.
Democrat Jared Polis won election as Colorado governor in 2018. Michael Conway was appointed in early 2018 by Gov. John Hickenlooper, who was term-limited this year, as interim insurance commissioner.
David Ige, a Democrat, successfully won reelection as governor of Hawaii. Gordon Ito was appointed insurance commissioner in 2010 and was reappointed by Ige in 2015 and continues to serve.
Republican Brad Little won election in 2018 as Idaho's governor. The path for Little was cleared when fellow Republican Butch Otter chose not to seek a fourth term in office. Dean Cameron remains insurance commissioner. He has been serving in that role since 2015.
Key States
The Property Casualty Insurers Association of America said it will be watching these key states and issues::
California
Wildfire legislation – important to prevent unintended consequences for the homeowners market
Workers' compensation may become a topic with a new governor
Distracted driving legislation – adding a point to one's record to deter the behavior
Colorado
Colorado turned from a blue state to a purple state in November. Colorado consumers are already experiencing increasing car insurance costs, and the change in the state's political climate is unlikely to bring any relief to consumers from Colorado's expensive litigation environment. Insurers are expecting a push for an increase of damage caps and limitations on alternative dispute resolutions such as arbitration.
Was this article valuable?
Here are more articles you may enjoy.
From This Issue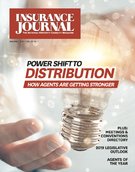 IJ's Agents of the Year; 2019 Agents & Brokers Meetings / Conventions Directory; Market: Employment Practices Liability