David Stevoff
Dallas-based Colemont Corporationannounced that David Stevoffhas been named chief operating officer of Colemont Brokerage Group, its U.S. subsidiary. In this newly created position, Stevoff will have responsibility for the overall operations and productivity of Colemont's U.S. offices, for relationships with agents and markets, and for account service. Stevoff joined Colemont's Chicago office as a new broker in August 1994 and first served as its executive vice president before being named office president in January 2003.

John Keogh
American International Group Inc., headquartered in New York, reported that its board of directors elected John W. Keogh senior vice president. He will continue to serve as president and chief executive officer of AIG member company National Union Fire Insurance Co. of Pittsburgh, Pa., a position he has held since 2000. Previously, he was executive vice president of AIG's Domestic Brokerage Group, responsible for managing field operations and segment marketing. Keogh also served as president and chief operating officer of Lexington Insurance Co. Keogh joined the AIG Companies in 1986.

Patricia Cloutier
AIG's directors also elected Michael H. Sutton as director. Sutton will now serve on the audit committee of the board. Sutter served as chief accountant of the Securities and Exchange Commission from 1995 until his retirement in 1998. Later that year through 1999, he served as a special, full time consultant to the financial accounting standards board.

Timothy Barry
Patricia L. Cloutier has joined TD Banknorth Insurance Groupin South Portland, Maine as an account manager for employee benefits lines. She will provide a range of services to employee benefits clients throughout Maine. Cloutier has 23 years of experience in the field of employee benefits for large insurance companies and agencies. She most recently served for seven years as an assistant vice president/employee benefits consultant at Marsh & McLennan Companies in Portland. TD Banknorth Insurance Group is a subsidiary of TD Banknorth Inc.

Peter Harper
Specialty Risk Services LLC, a third-party property-casualty third administrator for workers' compensation and general liability claims, has appointed Timothy Barry to director of Special Investigative Unit and Fraud Management in the Hartford, Conn. Home office. Barry will oversee all state and carrier compliance activities for SRS as well as the development of all fraud management tools and practices. He also will guide both internal and external fraud management training initiatives, with a special focus in workers' compensation fraud. Prior to joining SRS, Barry worked for The Hartford Financial Services Group's fraud management department. He has a 24-year-career with the Connecticut State Police.
Arizona-based Scottsdale Insurance Co. named Peter Harper as vice president and treasurer. Harper brings nearly 20 years of finance leadership experience to his new role. Most recently he was chief financial officer and treasurer of Suntron Corp. He has also held senior leadership positions with Iomega Corp. and General Electric.
The Excess Line Association of New York has appointed Louis E. Nunez as director of communications and education. Nunez will undertake responsibility forpublic relations, media projects and publications and be reporting to Daniel Maher, executive director. Nunez will also direct educational andtraining activities internally andfor the industry on ELANY's behalf. Most recently Nunez was assistant vice president of the international division for Reliance InsuranceGroup.
Willis Group Holdings Ltd., continuing to strengthen its construction insurance practice has appointed two new people its Long Island, New York operations. Joining Willis from Select Contractors Coverage Corporation are Richard Brazzano and Martin J. Lyons. Brazzano joins as senior vice president, bringing with him 40 years of experience and a background in contractors insurance. Lyons joins as senior vice president.
Hilb Rogal & Hobbs Company in Richmond, Va. has appointed Walter L. Smith to the position of senior vice president, business practices and quality assurance and A. Brent King to vice president, general counsel.
Smith will be responsible for quality assurance and legal compliance of the company's various processes. King will succeed Smith as general counsel.
Smith's career with HRH began in 1988 as assistant vice president, general counsel. He was promoted to vice president in 1991, senior vice president in 2001 and in 1998, he was appointed corporate secretary, which is a position he will retain.
King joined HRH in 2001 as vice president, associate general counsel. In addition to his responsibilities as general counsel, King will continue to be a member of HRH's mergers and acquisitions team. Prior to joining HRH, he was an attorney with the Williams Mullen law firm.
Hilb Rogal and Hobbs Co. also appointed Joseph Birriel to the position of senior vice president, human resources and corporate branding. Birriel will succeed Henry Kramer, who is retiring. Birriel joined HRH from The Martin Agency, a national advertising firm.
NSM Insurance Group in Conshohocken, Pa. has hired Michael Egan as director of its Coastal Condo, Hotel and Motel Program (CHAMP). Egan has more than 20 years experience, having served as property officer for Swiss Reinsurance and before that with Reliance, General Accident and Fireman's Fund. In addition to its program business, NSM also has wholesale divisions.
Steven C. Mansfield is the newest member and branch manager of the South Jersey Branch of DVUA of New Jersey Inc., announced Edward Levy, president and chief executive officer. Mansfield will be responsible for managing all aspects of DVUA's South Jersey Branch. The South Jersey Branch is located in Marlton, and services the southern part of the state (south of I-95). Mansfield comes to DVUA with over 25 years of insurance experience in the areas of underwriting, management, business development and marketing. Delaware Valley Underwriting Agency Inc. is a member company of United America Indemnity Ltd.
Was this article valuable?
Here are more articles you may enjoy.
From This Issue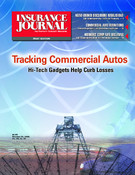 Commercial Auto