National
Ironshore Specialty Casualty has named Casey Hartley senior vice president and head of the Programs business unit in the U.S. She will oversee the development, marketing and distribution of programs lines, working with programs administrators across Ironshore's underwriting platforms in the U.S. Hartley will be supported by Tracey Sharis, senior vice president, who has been appointed director of Programs. Hartley was named to lead U.S. General Liability Lines for Liberty International Underwriters (LIU) in 2016. She previously served in various roles at LIU's parent, Liberty Mutual Commercial Insurance. Sharis was most recently senior vice president of Operations and Distribution for Ironshore Specialty Casualty and senior vice president of Retail Distribution. She joined Ironshore Specialty Casualty in 2011 as vice president for retail and construction business lines within the U.S. Sharis has held management positions for Aon Benfield within its facultative reinsurance group and with AIG's Lexington Insurance Co. in property and casualty sectors.
Kimberly A. Holmes has joined Chicago, Ill.-headquartered Kemper Corp. as senior vice president, chief actuary and strategic analytics officer. Holmes will lead Kemper's actuarial and analytics teams. Holmes' direct reports include the executives who lead the actuarial and data and analytics functions for Kemper's specialty auto, personal insurance, life and health lines of business. She will report directly to Kemper President and CEO Joseph P. Lacher Jr. and be based in Chicago. Most recently, Holmes served as senior vice president and global head of strategic analytics for AXA XL. Prior to that, she held chief actuary roles at Endurance Risk Solutions, Endurance Specialty Insurance, Enterprise Reinsurance and Starr Excess Liability Insurance Co.
East
M&T Insurance Agency (MTIA), headquartered in Buffalo, N.Y., has hired Jeffrey Batt to its Washington D.C. office as the cyber insurance practice leader. He will manage client relationships by providing cyber insurance and risk consulting and will lead efforts to create cyber and privacy risk assessment and quantification tools for MTIA. Batt most recently worked for Marsh in its Cyber Center of Excellence. Prior to Marsh, he was an associate deputy general counsel at the U.S. Department of Defense.
Global Excess Partners (GEP), a New York City-based specialty insurance organization, has promoted Brendan Cook from vice president to vice president and managing director. He reports to Chris Zoidis, corporate executive vice president of H.W. Kaufman Group, the parent company of GEP. Cook will lead GEP's growth strategy, product development and operations, with immediate priorities of capitalizing on the company's specialty insurance products, including middle market property facility and flood only facility coverage. Cook joined GEP in July 2017 as vice president and head of its Middle Market Underwriting operation and has more than 30 years of experience in the insurance industry from both the United States and his native Australia through various roles within the insurance industry.
South Central
Concord, Calif.-based Athens Administrators has hired Catharine Knight as its Texas sales director. Knight has more than 25 years in the healthcare and insurance industry as an all-lines adjuster, a sales director for ancillary services to third-party administrators (TPAs), insurance carriers and insurance companies. Most recently, Knight served as the vice president of payor relations for an occupational medicine clinic in Texas. Knight will deliver claims administration services to businesses in order to build Athens' presence in Texas. Founded in 1976, Athens Administrators delivers workers' compensation and liability claims administration services.
Newport Beach, Calif.-headquartered Alliant Insurance Services has hired John Cox to its Employee Benefits Group as vice president, based in Austin, Texas. Prior to joining Alliant, Cox was president of the health division of a human resources services organization. Alliant Insurance Services provides property and casualty, workers' compensation, employee benefits, surety and financial products and services to clients nationwide.
The Texas Department of Insurance (TDI)-Division of Workers' Compensation has reappointed Cassie Brown as commissioner. Her term will expire on Feb. 1, 2021. Brown has served as workers' comp commissioner since being appointed to the post in June 2018. She succeeded Ryan Brannan, who left the division on May 1, 2018. Previously, she served as deputy commissioner for Regulatory Policy at the Texas Department of Insurance. She also previously was a policy advisor to former Governor Rick Perry. TDI's Division of Workers' Compensation regulates the workers' compensation system in Texas.
Midwest
Appalachian Underwriters Inc. (AUI) has hired four workers' compensation underwriting professionals in its St. Peters, Missouri, office. Tara Regan-Collins, senior underwriter, will handle the West region for AUI. She previously worked with another national managing general agent (MGA) where she was senior underwriter. Kimberly Ksiazkiewicz, senior underwriter, will be underwriting workers' comp business in the Southeast region as well as middle market accounts. She most recently served as underwriting supervisor for a national MGA. Eric Nitz, underwriter, will work on accounts under $25,000 from the AUI Xpress workers' compensation online rater. He has been an underwriter for the past five years. Kathy Hovis, underwriting assistant, will support the St. Peters underwriting team to rate, quote and bind new workers' comp business. She has three years of workers' comp policyholder experience.
Wisconsin's new insurance commissioner, Mark Afable, has made three appointments to the Office of the Commissioner of Insurance's (OCI) leadership team. Nathan Houdek will serve as deputy commissioner responsible for managing the day-to-day operations and supervising the regulatory, public information, legal, legislative relations and administrative responsibilities of OCI. Olivia Hwang will serve as director of public affairs, responsible for overseeing all communications and legislative relations activities for OCI. Richard Wicka will serve as chief legal counsel, responsible for supervision of OCI's Legal Unit. He has previously served as OCI's deputy chief legal counsel and acting chief legal counsel for the last seven years.
Chicago-based insurance brokerage Hub International Limited (Hub) has hired Darren Hickey and acquired a motorsports book of business. Hickey is based in Indianapolis and will join Hub Southeast. He previously served as a vice president in the commercial insurance division of the Indianapolis-based agency Gregory & Appel Inc., according to Hickey's LinkedIn page.
United Group Alliance (UGA), an alliance of independent insurance agencies, hired Dianne Swanson as regional vice president for Ohio. Swanson will be responsible for membership service and business development for all UGA member agencies in her territory of Central/Southeastern Ohio. She will work closely with Nicole Kaylor, UGA's regional agency development field specialist. Most recently, she served as the regional brokerage consultant for Nationwide Brokerage Solutions.
Southeast
Kentucky Governor Matt Bevin has appointed Brenda Collins as a member of the Kentucky Workers' Compensation Funding Commission. Collins, a benefits distributor for Constellium-UACJ, will represent employers and serve for a term expiring Nov. 18, 2021. The Kentucky Workers' Compensation Funding Commission was created in 1987 for the purposes of controlling, investing and managing the funds collected to support the Commonwealth's workers' compensation program.
Rolling Meadows, Ill.-headquartered Associated Agencies has hired Stuart Shapiro as an account executive on its sales team. Shapiro will be responsible for expanding Associated Agencies' presence in the Southeast, specifically in the Atlanta market, and will focus on building insurance programs for real estate companies and retailers. Most recently, Shapiro spent the past five years as vice president of leasing – Southeast, and director of leasing – Southeast for Phillips Edison in Atlanta. Associated Agencies is an independent insurance agency that manages property and casualty, employee benefits and personal lines for business and individuals.
Insurors of Tennessee has promoted Daniel Smith to chief marketing officer and added Jim Layman as director of Government Relations. The new positions at the trade association, which represents independent insurance agents in the state, are effective immediately. Smith previously served as director of Communications for the organization since 2007. Layman joins Insurors after more than seven years with state government, including most recently for the Tennessee Department of Mental Health and Substance Abuse Services as legislative liaison and rules coordinator.
West
CREST Insurance Group LLC in Arizona has named Lindsay Welch vice president of community relations and business development. She will be responsible for managing Crest's philanthropic involvement and brand awareness. She most recently was CEO of her strategic development and sales consulting firm, Autus Strategies. Welch's former roles include school administrator, non-profit executive director, chief business development director and CEO. CREST Insurance offers personal and business insurance.
Island Insurance, a Honolulu, Hawaii-based property and casualty insurance carrier, has named Daniel Lee vice president in commercial lines. Lee will oversee Island's commercial insurance division, which includes commercial underwriting, commercial operations, risk control, premium audit and surety bonds. Lee has nearly 15 years of insurance experience and was previously a casualty broker at CRC Group. His experience also includes industry manager for The Hartford.
Portland, Ore.-based Fournier Group has named Melissa Larson commercial insurance manager. Larson is responsible for boosting departmental efficiencies, refining procedures, and recruiting, training and managing staff. Larson has been with Fournier Group for more than 17 years. Fournier Group brokers business, personal and aviation insurance.
Was this article valuable?
Here are more articles you may enjoy.
From This Issue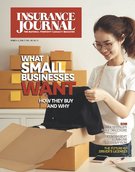 Small Business Market; Hospitality Risks Directory; Markets: Homeowners & Auto, Business Interruption; Special Supplement: The Florida Issue