S&P placed its "BBB-" counterparty credit rating on Willis Group Holdings Inc. on credit watch with negative implications following recent developments in the ongoing investigation by the New York attorney general into the payment of contingent commissions, which has led to the decision by various insurance companies and insurance brokers to suspend or end certain compensation agreements. The investigation alleges that this practice motivates an insurance broker to place its clients' business with the insurer that pays the highest contingent commissions rather than with the insurer that offers the best coverage for the price, allegedly violating the brokers' fiduciary responsibility to its clients.
The ratings were placed on credit watch negative to reflect the ongoing uncertainties represented by the continuing N.Y. investigation, for which Willis is a subpoenaed party, as well as the concerns about of private litigation.
The brokerage, a consulting subsidiary of Marsh & McLennan Cos. (MMC), announced it would immediately suspend its practice of MSAs with insurance carriers. Willis indicated it would end its practice of accepting contingency commission payments (equivalent to MSAs) from insurers. S&P estimates that although the elimination of such payments is expected to affect earnings in at least the near to intermediate term, the ratings on Willis have historically been tempered by the company's lack of earnings diversification and lack of a significant track record of consistent earnings through various underwriting cycles. As such, the potential reduction in the company's recent robust earnings is not, in S&P's opinion, in and of itself sufficient cause to warrant a downgrade at this time. However, if the N.Y. AG or other legal entity files a legal charge, there would likely be a negative rating action.
From This Issue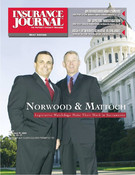 Agriculture