The screen door flew open but the Great Dane just stood there.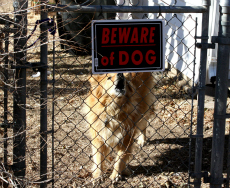 Twenty-six years of experience told postal worker Victor Torres to remain still, brace for impact, and position his blue mailbag as a makeshift shield.

Torres said he followed the training, and the Great Dane backed down. Unfortunately, there was a second dog — one that Torres never saw coming.

"I was waiting on the big guy to charge at me, and I didn't even see the second, smaller dog," said Torres, recounting one of five dog attacks he experienced as a letter carrier in Bristol Township, Pennsylvania.
Dog attacks are on the rise in Pennsylvania, with 197 insurance claims in 2011 — an increase of 34 percent over the previous year, according to the Insurance Information Institute.
Nationwide, dog attack insurance claims are up 12 percent from 26,166 claims in 2010 to 29,396 claims in 2011, according to the institute.
Allstate insurance company recently ranked Pennsylvania fifth among states with the greatest numbers of dog attack claims, averaging $30,000 for each incident.
Children and the elderly are the most at risk for attack, according to the American Humane Association. Those in the delivery service industry ranked third among likely victims.
A dog's tendency to bite depends on such factors as heredity, obedience training, socialization, health and the victim's behavior, according to the AHA. Approximately 92 percent of fatal dog attacks involved male dogs and 94 percent of those were not neutered, according to the statistics.
Allstate said it hasn't studied the reasons behind the spike in attacks in Pennsylvania but the economy could be one factor. More struggling families are living together with extended relatives, including children and the elderly.
"If suddenly you're in a multi-family situation, then there are new routes of exposure to your dog," said Dave Phillips, spokesman for Allstate. "We think about these dogs as pets, but at the core they're still animals. They shouldn't be approached while eating, or startled by some unknown person."
At the Levittown Post Office, workers are quick to brandish their leg scars.
Many of the homeowners along Torres' route are caring for a relative's dog, he said. One such animal had a "taste for blood," he said.
Torres said he couldn't remember the breed, but it was about 40 pounds. After escaping the backyard fence, it came at him "like a bullet," he said.
"It got a taste of blood and it just kept biting," said Torres. "When I looked down, my leg was covered in blood."
The U.S. Postal Service asks dog owners to check the strength of screen doors and windows used during the spring and summer months. Homeowners with a lot of dogs are encouraged to position mailboxes farther away from the house.
Torres said some homeowners along his route actually chain dogs to the mailbox. In some cases, mail carriers will refuse to make deliveries at those homes, he said.
Allstate encouraged pet owners to check their homeowners insurance policy, which might include coverage for animal attacks. Dog bites accounted for one-third of all homeowners insurance claims paid out in 2011, costing nearly $479 million, according to the Insurance Information Institute.
Torres said he has never taken legal action against a dog owner. However, the postal service will ask the pet owners to cover the cost of lost work time when a postal carrier is recovering from injuries.
"I don't know of anyone in this job who has not been bitten," Torres said. "There are some of us who just refused to go back out there.
"They just can't handle the dogs," he said. "It becomes scary."
Information from: Bucks County Courier Times.
Copyright 2020 Associated Press. All rights reserved. This material may not be published, broadcast, rewritten or redistributed.
Was this article valuable?
Here are more articles you may enjoy.