Cape Town's water crisis, which saw the drought-hit city come within 90 days of turning off the taps earlier this year, highlights the threats to South African companies from a repeat event and should serve as a warning to vulnerable cities worldwide, analysts from UBS Group AG wrote in a report.
New Delhi and Hyderabad in India, Beijing, among other Chinese cities, Jakarta, Singapore and Sydney in the Asia-Pacific region, Brussels and Rome in Europe, along with San Francisco and the Manhattan area in the U.S. are some of those with relatively high water risks, the UBS analysts said, citing information from the World Resources Institute.
With the city in the grips of a record drought, Cape Town authorities in January told residents that their supplies could be cut in April as dam levels dwindled dangerously below 30 percent. That risk has receded after a recovery in rainfall and severe restrictions on water use, with the so-called "Day Zero" pushed out to at least 2019. Dam levels have risen to 63.5 percent, city authorities said Tuesday.
But Cape Town "is not yet out of the woods," the UBS analysts wrote in their report Tuesday. The Swiss bank cited work by scientists suggesting that global warming has tripled the risk of a three-year dry run in the Western Cape province, increasing the risk of a repeat of 2018's "water crunch."
Here are some of the UBS analysts' views about the impact on South African companies from a return of the water crisis in Cape Town:
Banks
Direct effects could include lower business confidence and credit volume
Indirectly, a crisis could weaken economic growth and deal a blow to banks' earnings outlook
Banks could face higher credit-loss charges, while damage to property may trigger lower house prices and damage collateral, while adding to pressure on consumers
Costs could rise at banks' Western Cape branches; in addition, Capitec Bank Ltd. is based in Stellenbosch, near Cape Town, while Investec has a major office in the city.
Insurers
Portfolios of local bonds and equities would be affected by market reactions to water disruption
Insurers would also face increased property damage claims, affecting short-term profitability for the likes of Santam Ltd., Rand Merchant Investment Holdings Ltd.'s Outsurance and Old Mutual Insure
Any temporary increase in mortality rates caused by health care disruptions could drive up claims for life assurers, with Sanlam Ltd. and Old Mutual more exposed in this region, along with higher costs at their head offices in the city.
Retail/Consumer
Food retailers would experience increased food inflation as the drought hits production in nearby farming areas Pick n Pay Stores Ltd., Shoprite Holdings Ltd., Spar Group Ltd. and Woolworths Holdings Ltd. would attract consumers buying water, but overall sales volume would decline in line with GDP growth
Among clothing retailers, Woolworths has the greatest Western Cape footprint and would be most at risk of sales declines, followed by The Foschini Group Ltd.
Hospitals
Mediclinic International Plc is most exposed to the Western Cape with 18 hospitals, followed by Netcare Ltd. with 12 and Life Healthcare Group Holdings Ltd. with eight; the companies have invested in alternative measures of ensuring water supply, UBS said.
–With assistance from James Cone.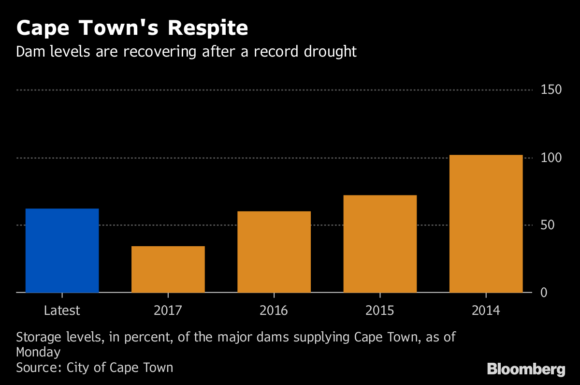 Related:
Was this article valuable?
Here are more articles you may enjoy.