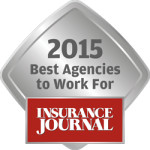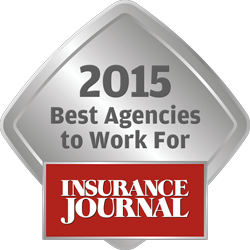 CLAYTON, MISSOURI
Powers Insurance & Benefits
Best Agency to Work For – Midwest
Growth, Profitability, Perpetuation
---

Employees at Powers Insurance & Benefits in Clayton, Mo., are enthused about the agency's family atmosphere, its team spirit and its vision for growth, profitability and perpetuation, according to their responses to Insurance Journal's annual online survey of the Best Agencies to Work For.
Powers, awarded the Silver designation as IJ's Best Agency to Work For in 2015 – Midwest Region, is a family owned business where everyone is made to feel like part of the family, its employees say. In fact, Powers was recently named the best family owned business the St. Louis-area, several staff members pointed out.
The firm has a "clear vision for growth and profitability. The second generation is coming on to take charge and move the agency forward to the next level. The employees are faithful, dedicated and hard working," said one employee.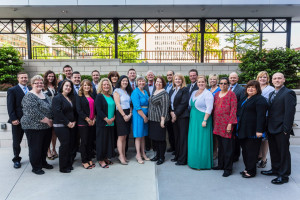 Founder and CEO Pierce Powers Jr. said the recognition "is a wonderful compliment," but credited three of his children, who are on board with the organization, and "other talented associates" with creating an environment where employees want to be and want to succeed.
"This is a great place to work because we are a team and we row together in the same direction. We all like coming to work, serving our clientele and inspiring one another," Powers wrote in an email to Insurance Journal.
"I am just a part of an incredible organization," he added.
The "leaders of our firm work much more than the salaried employees, so they carry more than their weight," one survey respondent wrote. "They … listen to us, because they want our work environment to be great and they understand there is always room for improvement, and they follow through and try to make those improvements."
Said another: "This is a privately owned, closely managed agency that is focused on providing the best product and service to our clients. We are as a group, highly qualified professionals working in an environment of mutual respect and co-operation. This agency is family oriented and committed to operating profitably for the benefit of all employees."
Stating that "Powers is a wonderful place to be employed," one employee noted it "takes a group effort to be successful and this company has embraced that to the fullest."
Another employee said Powers is the first workplace where "I have felt truly cared about by all owners and executives. My hard work does not go unnoticed. The health care benefits are fabulous. I feel like a piece to the puzzle and I love that!"
Pierce Powers said in founding the firm he took to heart the advice given by his "physician father: to find a business through which you can give more than you take and that you may perpetuate if you are blessed with capable and interested children."
He added that the agency is "energized in the pursuit of challenging the status quo to bring clarity and safe-guard the financial well-being of our clients, their employees and families."
Powers' comment was echoed by an employee, who said: "We protect the client, the family and his/her business. We 'think outside the box' to make sure all aspects of risk management are considered and communicated."
With three of his six children in leadership roles, the agency is prepared for the future, Powers said.
"They not only spearhead growth and enhance our management, they have extended the invitation to other young people to join in our mission. Perpetuation is a reality," he said.
Related:
Was this article valuable?
Here are more articles you may enjoy.