American International Group (AIG) and Nationwide Mutual are the top writers of U.S. excess and surplus (E&S) business but Berkshire Hathaway Inc. has climbed to become the eighth largest writer in just two years.
A new SNL report shows Berkshire Hathaway grew its direct premiums written by 48.2 percent in 2014 over 2013. This came following a 38.6 percent jump in 2013, when Berkshire ranked 13th in the U.S. market.
Among the top 10 E&S writers, AIG, Zurich and Fairfax lost market share in the year over year comparison, according to the SNL data.
Berkshire Hathaway Specialty Insurance was formed in April 2013. BHSI writes commercial property, casualty, health care professional liability, executive and professional lines, surety and travel insurance.
Within the U.S., Berkshire's two largest E&S writers that file with the NAIC are National Fire & Marine Insurance Co. and General Star Indemnity Co. These entities together wrote about 83.4 percent of the group's total E&S premiums. These two units specialize almost exclusively in E&S.
Lexington Insurance is part of AIG and Nationwide Mutual owns Scottsdale.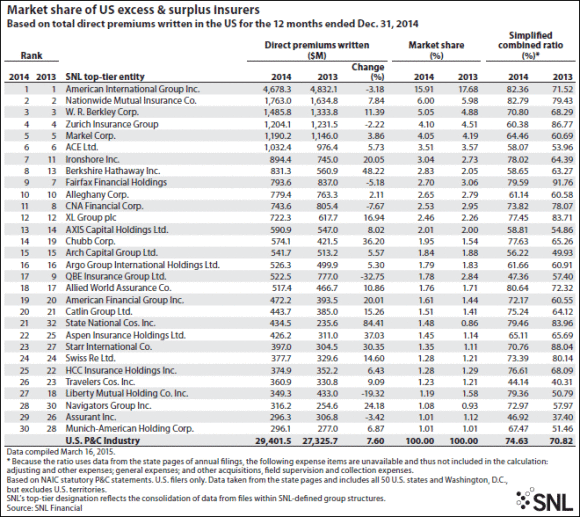 Related:
Was this article valuable?
Here are more articles you may enjoy.