The National Insurance Crime Bureau (NICB) says today's vehicles are loaded with expensive parts and technology that do more than increase the costs of repairs, even in minor accidents. The organization says those same expensive parts are continuing to drive car thefts as criminals steal cars and trucks to strip them and sell the parts on the black market.
Thefts of vehicles in the U.S. rose again last year by more than four percent, according to preliminary 2017 crime data from the FBI. Insurers report that many of the vehicles that are recovered are missing wheels and rims or other key parts, while ones that are never recovered end up in chop shops where they are quickly dismantled and sold piece by piece.
The NICB looked at the cost of replacement parts for the top 10 stolen 2016 models. Average original equipment manufacturer (OEM) part prices were pulled from a database of 24 million vehicle damage appraisals generated for insurance claims from 2016 and 2017. Parts such as bumpers, doors, fenders, hoods and headlights were on the list. Major components like the engine and transmission were not included.
The 2016 Toyota Camry, the most stolen 2016 model according to NICB's latest "Hot Wheels" report, had 15 commonly replaced components valued at nearly $11,000. That's not including labor.
The 2016 Nissan Altima had 14 standard components worth more than $14,000, including a single headlamp assembly valued at more than $1,000 while the 2016 GMC Sierra pickup truck included a $1,100 headlamp and a rear bumper worth more than $1,100. The 20 standard components rang in at more than $21,000
"For the professional theft ring, stealing and stripping vehicles for parts has always been a lucrative business," said NICB Senior Vice President and COO Jim Schweitzer. "On today's cars and trucks, the parts are often worth more than the intact vehicle and may be easier to move and sell. That's why we see so many thefts of key items like wheels and tires and tailgates…there's always a market for them."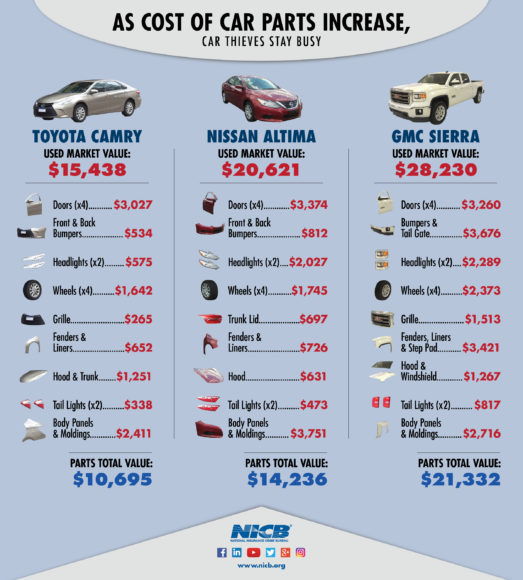 Was this article valuable?
Here are more articles you may enjoy.