A U.S. lawmaker has introduced a bill that would allow insurers to voluntarily pay certain COVID-related business interruption claims and get reimbursed by the federal government, but insurance groups have rejected the idea.
Although the text of H.R. 7412, the "Business Interruption Relief Act of 2020," sponsored by Rep. Mike Thompson, D-Calif., has not even been published to the congressional website yet, the insurance industry has come out against it. Representatives of two insurance carrier groups, one reinsurance group and three agent/brokers groups who have seen the proposed language have written to Thompson suggesting that the proposal actually "works against the goal of aiding small businesses and individuals in the most efficient and effective manner possible."
Thompson has said the bill would allow insurers to voluntarily opt to pay claims under business interruption policies that include coverage for civil authority shutdowns but exclude virus-related damages. A June 22 draft of the bill obtained by Carrier Management says that for insurers that voluntarily pay such claims, the U.S. Treasury shall provide financial assistance to reimburse benefits they paid and for "any expenses incurred by the participating insurer relating to the paying" of the claims.
The proposed "Business Interruption Relief Program" (BIRP), which would be established if the bill is enacted, would not provide any benefit or reimbursement for claim payments or claim expenses paid under policies that do not expressly exclude virus coverage, the draft says.
"By creating a new federal program that would require the nation's insurers to pretend language was present in certain contracts that is simply not there, H.R. 7412 would create false expectations for American business owners while leaving taxpayers holding the bag for risks insurers never agreed to take on," the property/casualty insurance industry groups said in a letter dated June 30, 2020.
The letter was signed by Jimi Grande, National Association of Mutual Insurance Companies; Charles E. Symington Jr., Independent Insurance Agents & Brokers of America; Nathaniel F. Wienecke, American Property Casualty Insurance Association; Nicole C. Austin, Reinsurance Association of America; Joel Wood, Council of Insurance Agents and Brokers; and Keri Kish, Wholesale & Specialty Insurance Association.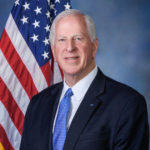 The concept of Thompson's bill was described to Carrier Management in June by John Houghtaling II, a lawyer for Gauthier Murphy & Houghtaling in Louisiana, who represents the Business Interruption Group, a coalition of restaurants and other businesses impacted by pandemic shutdowns. Houghtaling, who said at the time that he was speaking with Thompson's office to get the bill introduced.
"We described who we thought would be against it, which would be the advisers of the insurance industry, the ones that make money if there's no solution," he added.
According to Houghtaling, the idea behind the BIRP is to eliminate battles over ambiguous coverage language that only serves to enrich plaintiffs lawyers and defense lawyers. "We may be against the defense lawyers that will make lots and lots of money off of [coverage litigation] but I really find it interesting that there's any [other] opposition at all to this," he said.
He said he believed that other opposition was "a function of confusion" over what his group was seeking with the proposal.
Insurers that have clear language in their policies wouldn't be included in the proposed federal reimbursement program. "If you use the word pandemic and you excluded it, it's obvious. You're out," he said, noting that such insurers don't need any assistance for coverage denials in these cases. Also, "if you don't have any exclusion for viruses or pandemics or anything, you're not part of the program either."
"It's the ones in the middle, where it may be ambiguous and there's going to be litigation," that the proposal attempts to address.
"What the insurance industry should do is to pay the policies that they owe; they should deny the policies they don't owe." In between those extremes, "if there are ones that they fight about, that we can have arguments on both sides [about], what we're suggesting is let's solve this issue now," he said. The alternative is spending years in court and billions of dollars on legal fees, he said, suggesting that only insurance industry defense counsel— "sitting on the biggest payday they've ever had in civil history"—stands to benefit from that alternative.
The industry groups in their letter to Thompson note, however, that many businesses will not benefit at all from H.R. 7412 because only 40 percent of commercial property insured purchased business interruption coverage—and for small businesses, it's an even lower 30 percent.
The industry groups also suggest the enactment of H.R. 7412 would "undermine the entire system of contracts in this country" and that it would also "artificially utilize the insurance mechanism to distribute what amounts to direct aid, a costly and inefficient distribution system for such an effort."
In "exchange for the fiction of coverage created in the face of express language excluding viruses, insurers are to be promised financial assistance provided by the Secretary of the Treasury, subject to any regulations necessary to carry out the program. The bill appears to indicate that a participating insurer would be reimbursed based on the policy (other provisions of which are to be ignored), 'plus expenses,'" the letter says.
Other Proposals
In late May, NAMIC, APCIA and the Big "I" unveiled what they view as a more efficient alternative proposed federal program to help businesses that are shut down during future pandemic—the "Business Continuity Protection Program," or BCPP. The BCPP would be run by FEMA, allowing businesses to purchase revenue replacement assistance for up to 80 percent of payroll and other expenses.
"Our industry is also working with members of the House Financial Services Committee, who have a deep understanding of how insurance works, in developing a federal government model that would work to assist small businesses during future pandemics. We strongly encourage Congress to focus on the mission of assisting those in need as quickly as possible," insurance groups said in the letter to Thompson last week.
In mid-April, Thompson introduced a different bill, the Business Interruption Insurance Coverage Act of 2020, which would require insurers that offer business interruption insurance to cover pandemic interruptions, nullifying pre-existing exclusions unless insureds authorize reinstatements of exclusions in writing or fail to pay increased premiums charged for the coverage.
Neither the insurance groups reacting to Thompson's latest bill nor Houghtaling are fans of another idea that's gained some support from risk management and broker groups—the Pandemic Risk Insurance Act introduced by Rep. Carolyn Maloney, D-N.Y., in late May, proposing to create a federal backstop for pandemic-related business interruption insurance modeled after the Terrorism Risk Insurance Act. The insurance groups believe that pandemic risk is fundamentally different from a terrorist attack. Houghtaling says prospective plans like PRIA do nothing to help businesses that were already shut down by COVID that bought business interruption policies they thought would apply.
Among other proposals discussed in recent weeks is one for a "Pandemic Reinsurance Corporation," described by RAA President Franklin Nutter during the Casualty Actuarial Society's Seminar on Reinsurance in early June. Nutter said this proposal, like PRIA, would involve a public-private partnership with insurers bearing some risk. But the risk-bearing role would differ by size of insured, with small businesses covered with a parametric product while large businesses would get a traditional indemnity cover. At the time, Nutter said that "no member of Congress" had introduced the Pandemic Reinsurance Corporation but that some advocacy groups were circulating such a proposal.
Topics COVID-19 Carriers Agencies Reinsurance Market Business Interruption Small Business
Was this article valuable?
Here are more articles you may enjoy.