During a webinar about an insurance industry labor market survey last month, an industry recruiter said that insurance carriers are losing ground to managing general agents in the war for talent.
"On the property and casualty side, primarily in the commercial space, it's been MGAs [that] are really growing very very quickly and very substantially, and they're taking a share of the employee market as they continue to grow [and] become a bigger factor in the commercial business," said Greg Jacobson, chief executive officer of The Jacobson Group, as he and Jeff Rieder, partner at Aon and head of Ward Benchmarking, reported the results of the Semi-Annual U.S. Insurance Labor Market Study published by the two firms.
Jacobson made the observation as he explained why insurance carrier employment figures from the U.S. Bureau of Labor Statistics, while rising, have not quite made it back to a record level achieved in 2020.
"There are two primary reasons why we haven't reached the highest levels—and they don't really have anything to do with planned reductions in staff," Jacobson said. Instead, carriers are having difficulty keeping up with turnover "primarily as it relates to retirements." In addition, "we're also seeing more and more employees go to alternative employers," he said, referring to MGAs.
Later in the webinar, Jacobson reviewed results of the survey, including a question which asked insurance carrier respondents (85 percent of which were from P/C carriers) to assess the difficulty they are having in filling 11 types of positions, ranging from technology to claims to operations to executives. As in recent prior surveys, every category remains difficult to fill, the survey found. In other words, respondents assessing their hiring struggles on a 10-point scale, assigned scores of 5 or above, on average, for every type of insurance job.
But even the hardest-to-fill jobs—in technology and actuarial areas—had lower scores than last year. "It is absolutely getting easier [to fill jobs] within the context of still being really difficult," said Jacobson.
There's one exception, however. Underwriting positions are getting slightly tougher to fill, according to survey respondents, Aon Ward's Rieder noted. "We've seen, particularly for the commercial line segment, a notable challenge for companies to fill positions, and that tends to be an area where companies have also seen more poaching of talent," he said. In addition, he said, other surveys—surveys about compensations—reveal greater increases in pay for underwriters, particularly in entry and intermediate roles "as companies are again poaching talent from other organizations." Therefore, it was hardly surprising that underwriting bucked the overall trend of declining placement difficulty.
"And there are alternative employers of choice for individuals to work for, especially in the commercial lines underwriting space," Rieder said, again offering MGAs as well as startups and traditional regional and superregional carriers getting into specialty markets as examples.
Reviewing the responses to a related question—a question that asked what functions carriers are most likely to try to fill this year—Rieder noted sharp (full-point or more) year-over-year reductions in scores for technology, analytical, actuarial and operations. There were no similar drops for the front office roles for underwriting and claims. "The core activities for insurance around claims and underwriting still remain very very much in high demand," Rieder said.
Explaining the declines for back office functions, he said that for many clients his firm is working with "there has been an emphasis on overall expense reduction, particularly as there's been some economies of scale that being achieved during the virtual work environment."
While the industry's greatest need across all types of insurers still remains technology staffing, P/C personal lines carriers rank their hiring aspirations for claims professionals ahead of technology professionals. Rieder pointed to the loss frequency and severity challenges in personal lines to explain the results, also noting that personal lines carriers took some reductions in force in their claim staff when the pandemic brought those claims metrics down–either through a reduction of force or a pause in hiring. "That appears to have come full circle. We also see generally higher levels of turnover, particularly into those entry level claims activities," he said.
Reductions Unplanned
More recent reductions in staffing for all types of P/C and life/health carriers have been unplanned, Jacobson reiterated at one point during the webinar in response to an audience questioner who asked why insurers are not hitting hiring targets. Is it "entirely driven by the inability to find suitable new employees?" the questioner asked.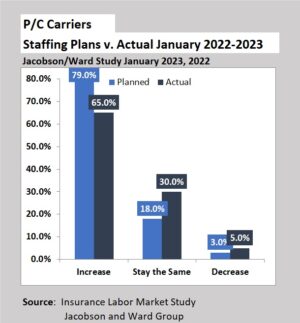 "That's exactly right. That's absolutely what's happening," Jacobson said. "The reason why the industry has less employees than it did two years ago is not because the industry intended to reduce jobs. It's because there are more open jobs."
In fact, last January, 79 percent of P/C carriers surveyed had indicated that they intended to increase the size of their workforces in 2022. A year later, only 65 percent reported that they actually did.
In addition, while only 3 percent said they planned to decrease staff a year ago, that figure is up to 9 percent for 2023. Across all types of insurers, the percentage intending to decrease staff jumped from 3 percent in 2022 to 10 percent in 2023.
Rieder and Jacobson said that this change is probably indicative of concerns about economic volatility.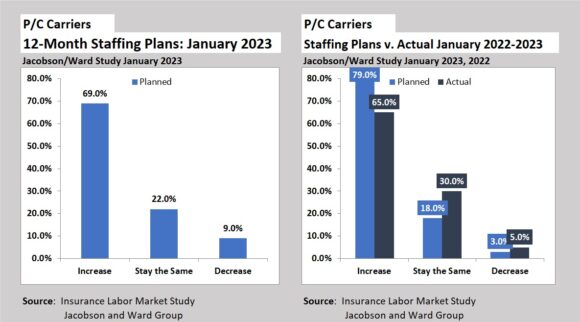 For the first time in the 14-year history of the survey, Aon and The Jacobson Group have tabulated figures on voluntary and involuntary turnover within the industry. Jacobson said that historically, insurance is one of the lowest turnover industries in the economy, but that has changed. In the last 12 months, the voluntary turnover (individuals choosing to leave on their own including retirements) was 11.1 percent, while involuntary turnover (people who are let go) was 3.6 percent, for a total turnover rate of 14.7 percent.
On a positive note, "that started to come back to close to pre-pandemic numbers over the last six months," Jacobson said, reporting that the figures dropped to 8 percent for voluntary turnover, and 2.8 percent for involuntary turnover for the second half of the year.
Still, "overall this is considerably higher turnover than the historical norm from the insurance industry, and most of that probably is related to just the way employees view their relationship with their employer over the course of their career," Jacobson said.
Back the Future
As carriers try to keep ahead of voluntary turnover, they are more willing to fill in entry level ranks, especially in back office operations roles—and even in underwriting.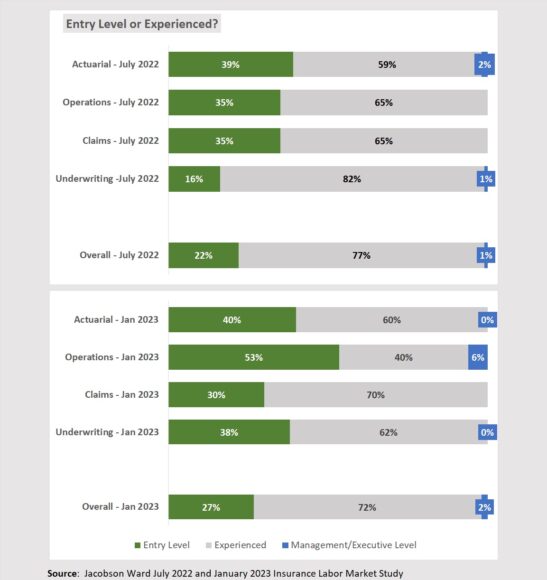 In total, carriers said that 27 percent of positions are expected to be filled with entry level staff, up from 22 percent reported from the prior survey in July 2022. While actuarial and operations functions remain the most likely to be filled with entry level personnel, right behind them in the latest survey is underwriting, with carriers surveyed in January 2023 saying that 38 percent of their underwriting positions are entry level—up from just 16 percent in July 2022. role.
"Companies are beginning to invest more in classes—hiring groups of underwriting and client entry level positions out of college. That might be a class of 8-10 individuals," Rieder reported, noting that by doing this semiannually, carriers intend to keep this pool of talent growing while replenishing those lost through elevated levels of turnover.
"For many of the tenured insurance individuals that grew up in the 80s and 90s, it was very much commonplace to see large classes." But that type of activity "was cut by many organizations or turned down" in 2009 and the early 2010s, after the recession. "Now, we're seeing a reemergence," he said.
Paying For Talent
Asked specifically about industry pay scales, Rieder said that going into 2022, merit increases were anticipated to come in around 3.5 percent, but materialized to be a little bit closer to 4 percent. And for some organizations, there were 4.5 percent jumps.
Jacobson, noted that the Bureau of Labor Statistics actually shows year over year increases in compensation of about 6 percent. "The difference between the 4 percent merit raises and the 6 percent total that we're seeing from the BLS is for most part due to the higher end of people from outside of an organization. It's more expensive to hire people from the outside than it is to retain your employees. And so we were seeing some significant jumps in salaries as a result of people leaving and going from one organization to another," Jacobson explained.
Topics Carriers Talent Training Development Insurance Wholesale Property Casualty
Was this article valuable?
Here are more articles you may enjoy.