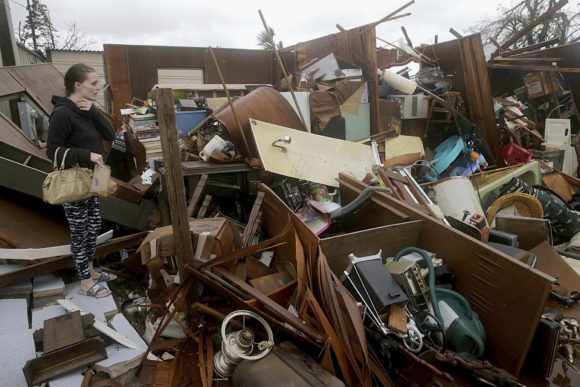 In an effort to keep the Florida assignment of benefits (AOB) crisis from further worsening in the state, Florida's insurance industry, regulators and consumer advocates are on high alert for AOB activity in the wake of Hurricane Michael and working to educate consumers on the pitfalls of signing over their policy rights.
"Consumers need all the information they can get to help navigate making repairs to their homes and vehicles, and we're working hard to provide resources to help prevent Floridians from becoming victims of AOB scams," said Mark Wilson, president and CEO of the Florida Chamber of Commerce, which spearheads the Consumer Protection Coalition, formed in 2017 to tackle the state's AOB epidemic.
Recovery efforts are underway in the Florida Panhandle from the Category 4 storm that hit the region on Oct. 10, and with that comes plenty of opportunity for fraudulent activities, officials say.
"I've already heard of crooked contractors who are asking for cash up front and pressuring some to sign an assignment of benefits contract. Check with your insurance agent, insurance company, or call my office before you sign anything," Florida CFO Jimmy Patronis warned in an Oct. 15 press release from the Department of Financial Services. "Storms bring out the best in people, but unfortunately, they bring out the worst in some. If it sounds too good to be true, it probably is."
Florida's AOB problem has stemmed from unlicensed water remediation and roofing contractors who have homeowners sign over their insurance policy rights in exchange for needed repairs to their homes, and then file inflated or fake claims with the insurer. When those claims are disputed or denied, these contractors file a lawsuit that insurers are often left footing the bill for.
Carriers across the state have seen an increase in litigation because of inflated claims, which is leading to increased costs for policyholders. According to the Florida Department of Financial Services, there were 405 AOB lawsuits across all 67 Florida counties in 2006, and by 2016 that number had risen to 28,200.
State officials have warned that the AOB issue could become even worse in the aftermath of a large-scale disaster, such as Hurricane Michael, due to a large number of claims triggering a contractor shortage, and people who are anxious to get repairs started on their homes assigning their insurance policy benefits to contractors.
Florida Insurance Commissioner David Altmaier said before Michael hit that scenario was one of his biggest concerns, and noted the quick handling of claims would help ensure people are not taken advantage of.
"At the end of the day, what we are primarily focused on with this region – and any region – is making sure consumers reach out to insurance companies as soon as possible and making sure insurers respond as expeditiously as possible," he said.
Consumer awareness is now a key strategy of Florida regulators and consumer advocates, as AOB reform efforts have failed in the Florida Legislature for the last several years. The insurance industry will play a key role in stemming any abuse by educating policyholders on why they don't need to and shouldn't sign an AOB, as well as by responding to claims in a timely manner, officials say.
"I put Florida's insurance industry on notice that I expect that they will be ready to serve Florida families after Hurricane Michael. We'll do everything possible to protect residents throughout the entire post-storm process," Patronis said in a statement before Michael made landfall.
But officials are doing more than just urging consumers and insurers to work together on their hurricane claims. During the 2017 hurricane season, the Department of Financial Services formed the Disaster Fraud Action Strike Team (DFAST) that consisted of three teams of insurance fraud investigators deployed to areas heavily impacted by Hurricane Irma.
Patronis said earlier this year that DFAST investigations stemming from the 2017 season resulted in the arrest of 22 alleged insurance fraud criminals and nearly 100 investigations were open and ongoing at the time.
Now, the fraud teams are deployed in areas impacted by Michael.
"… Anyone who tries to scam this community in the wake of Hurricane Michael will be found by my Disaster Fraud Action Strike Teams, who are already have boots on the ground," Patronis said.
The Consumer Protection Coalition, which is made up of business leaders, insurance companies, consumer advocates and associations, also deployed resources to the Panhandle this week to warn home and auto owners of the dangers associated with signing an AOB contract to start repairs on damage caused by Hurricane Michael, the group said in a statement.
"The Consumer Protection Coalition is committed to helping residents get through the difficulty of putting their lives back together," said Mark Wilson, president and CEO of the Florida Chamber of Commerce, which spearheads the coalition.
It has launched a multi-platform public service announcement campaign in Panama City and Tallahassee urging residents to contact their insurance agent or insurer first before signing any documents. The CPC also is educating home and auto owners at insurance claims villages in Panama City and Tallahassee and answering consumer questions about AOB abuse.
For its part, the insurance industry says its is ready to assist consumers with their recovery and is already in the area doing just that.
More than 44 insurers are currently on site at the Hurricane Michael Insurance Village in Panama City, Fla., and companies have fanned out across the Panhandle region to respond to their customers.
"Many Floridians suffered significant damage from Hurricane Michael, and insurers are in the field now helping policyholders begin filing claims," said Logan McFaddin, regional manager for industry trade association PCI. "Insurers want to prevent policyholders from being taken advantage of by bad actors that prey on Florida storm victims. Unfortunately, events like Hurricane Michael often bring out greater numbers of those bad actors."
Consumer Tips to Spot and Stop Post-Storm Fraud (Courtesy of the Florida Department of Financial Services)
Don't Sign Anything. Call your insurance agent, insurance company, or CFO Patronis' Insurance Consumer Helpline (1-877-MY-FL-CFO) before you sign anything, including assignment of benefits agreements.
Too Good, to Be True? It Probably is. If an offer sounds too good, it most likely is. Don't deal with anyone who demands cash up front.
Beware of Crooked Contractors. Beware of a contractor or restoration professional who: offered to waive or discount your insurance deductible; has received payment and has failed to provide any repairs; offered to provide repairs at a cash-only discounted rate and has failed to provide repairs; or pressured you to sign an assignment of benefit (AOB) and has failed to provide any repairs to your home or stopped responding to your contact attempts.
Verify. Verify the identity of individuals claiming to represent government and relief agencies or insurance companies. Official personnel should display ID badges, should provide identification without hesitation. If you suspect that someone is impersonating official personnel, contact the local police department or sheriff's office immediately.
Beware of Door-to-Door. Imposters often go door-to-door claiming to be FEMA representatives, asking for money to assist with the filing of federal flood claims. FEMA does not charge for this service and does not go door-to-door in this capacity.
Beware of Robocalls. Imposters claiming to represent FEMA typically call consumers and ask them to hang up and dial a 1-800 number to make an insurance payment ASAP to prevent policy cancellations.
Check a License. If you have damage to your home or vehicle, contact your insurance company immediately. Beware of fly-by-night repair businesses and hire only licensed professionals. If you have access to internet, verify a contractor's license at the Florida Department of Business and Professional Regulation's website – www.MyFloridaLicense.com.
Check Liability Insurance. Ensure contractors carry proper liability and workers' compensation insurance by checking the Department's Division of Workers' Compensation database.
Topics Florida Carriers Catastrophe Fraud Claims Hurricane Market Contractors
Was this article valuable?
Here are more articles you may enjoy.