Hurricane Julio weakened Sunday night as it neared Hawaii, where a rural swath of the Big Island was still coping with power outages and downed trees in the wake of Tropical Storm Iselle.
On the island of Kauai, rescuers found the body of a 19-year-old woman believed to have been swept away while hiking Friday in a closed state park during a tropical storm warning.
Julio, which was downgraded to the least powerful Category 1 level, was expected to pass roughly 250 miles (400 kilometers) northeast of Maui on Sunday and linger near the state into Monday. Sam Houston, a forecaster with the National Weather Service, said Julio's winds have weakened to about 90 mph (145 kph).
Iselle swept through the islands Friday without causing a widespread disaster. Tourists in Oahu and other popular parts of Hawaii got back to their beach vacations and residents lined up to vote in primary elections Saturday.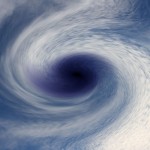 The tropical storm made landfall Friday over the lower Puna region in the isolated southeastern part of the island, bringing heavy rains, unleashing violent winds and toppling trees.
"It's like camping right now," Gene Lamkin said from a cellphone he charged using a generator after his electricity failed in Puna. "We're using water from our catchment system to bathe ourselves, shampoo our hair – trying to remain in a civilized manner."
Puna, which is home to about 40,000 people, had the bulk of the 9,200 customers still without power, according to Hawaii Electric Light Co. Outages could last through the weekend or longer, the utility said. At the height of the storm, about 25,000 customers lost electricity.
Election officials postponed Saturday's Democratic primary in Puna because of the downed trees and a lack of power. That left U.S. Senator Brian Schatz and U.S. Representative Colleen Hanabusa locked into a dead heat for the Democratic nomination for U.S. Senate. The race was too close to call Sunday until mail-in ballots come in from Puna.
Copyright 2020 Associated Press. All rights reserved. This material may not be published, broadcast, rewritten or redistributed.
Was this article valuable?
Here are more articles you may enjoy.