Farmers Insurance on Monday launched what is believed to be the state's first rideshare insurance coverage designed to provide seamless coverage for ridesharing drivers in Utah.
The coverage comes less than two months after Utah Gov. Gary Herbert signed a bill that creates new statewide regulations for ridesharing companies like Uber and Lyft, which will require drivers to be covered with at least $1 million in liability insurance.
The Los Angeles-based carrier worked with representatives of the Utah Insurance Department, legislators and leaders of transportation network companies to develop a product specifically designed to provide ridesharing drivers with the insurance coverage specified in Utah's new ridesharing law, the company said.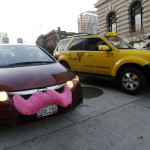 Under the state's new law, ridesharing drivers will be required to have insurance coverage from the moment they turn on their rideshare app. Since personal automobile insurance policies were not designed to provide rideshare drivers with coverage while they are working, the introduction if this new coverage will help to fill a potential gap in coverage.
Farmers launched a similar product in California in late May.
Farmers Rideshare will provide Farmers customers coverage during period 1, which begins once a driver turns on the ridesharing application and is awaiting a match. The coverage will extend a driver's Farmers auto insurance coverage until they accept a ride, at which point their TNC affiliate's insurance coverage applies.
Farmers Rideshare enables a driver to select the coverages that fits their needs, which includes comprehensive and collision coverage that pay for damages to their own vehicle, uninsured/underinsured motorist coverage and medical payments coverage.
Farmers Rideshare will provide customers period 1 coverage to drivers for any ridesharing company operating in the state. The endorsement will add roughly $15 per month to a customer's premium, according to Farmers.
Related:
Was this article valuable?
Here are more articles you may enjoy.