Wyoming State Forester Bill Crapser blames unseasonably dry weather with temperatures in the 70s and 80s for a destructive wildfire just outside Casper, which is practically unheard of at this time of year in the Cowboy State.
Rainy weather helped the Rocky Mountain avoid big wildfires this spring and summer.
By fall, usually Wyoming has seen freezing temperatures and possibly even a significant snowfall.
But, warmer temperatures have been drying out the prairie since early September.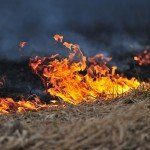 The National Weather Service warns of high fire danger across much of central and southern Wyoming. Still, Crapser says longer nights with temperatures dipping into the 30s and 40s should help firefighters working to contain the flames.
Firefighters took advantage of calmer winds and cool nighttime temperatures to regain ground on a grass fire that has burned at least a dozen homes in central Wyoming.
Crews with bulldozers worked overnight to block the fire along its northern flank. Containment is back up to 50 percent. Lighter winds compared to the past couple days should help.
State Forester Bill Crapser said Tuesday that between 15 and 20 structures are lost to the fire that has burned some 15 square miles of rolling prairie 3 miles north of Casper. The fire also burned several sheds and other residential outbuildings.
Hundreds of residents are evacuated from the rural area.
The fire began Saturday at a compost pile at the Casper Regional Landfill. Strong winds blew the fire away from the landfill Sunday and fanned the flames again Monday afternoon.
Copyright 2021 Associated Press. All rights reserved. This material may not be published, broadcast, rewritten or redistributed.
Was this article valuable?
Here are more articles you may enjoy.