The Clark County Commission in Nevada has approved a $25-a-year county-level licensing fee for drivers with ridesharing companies such as Uber and Lyft.
County spokesman Erik Pappa said commissioners voted Tuesday to approve the fee, which will also apply to drivers who work with other companies as independent contractors.
The fee covers operations within the unincorporated county and not necessarily in the incorporated cities within Clark County.
Uber issued a statement asserting that the new fee is not permitted under state law, and said the commission needed to stop protecting the taxi industry from competition.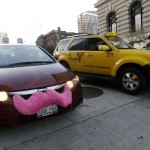 Uber is the larger of the two ridesharing companies authorized to operate in Nevada.
Related:
Copyright 2020 Associated Press. All rights reserved. This material may not be published, broadcast, rewritten or redistributed.
Was this article valuable?
Here are more articles you may enjoy.