Ridesharing companies in Las Vegas, Nev. such as Uber and Lyft won't have to hand over lists of their drivers to Clark County commissioners after all.
Commissioners voted this week to approve its business licensing ordinance without language requiring the companies to provide driver names. The county's legal staff said the requirement violated state law.
The law doesn't prevent county-run McCarran International Airport from asking for a list, though.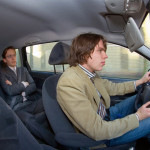 Lyft is the only ridesharing company at the airport so far after it agreed to temporary permit terms including handing over a list of drivers upon request. Uber hasn't agreed to the terms and drivers have been issued 1,575 citations since August for dropping off or picking up passengers without a permit.
Final permit terms are being drafted and will require county approval.
Related:
Copyright 2020 Associated Press. All rights reserved. This material may not be published, broadcast, rewritten or redistributed.
Was this article valuable?
Here are more articles you may enjoy.