Uber plans to bring ridesharing to either side of Lake Tahoe before the end of the year.
A recent agreement with Nevada allowed the company to launch simultaneously on the California and Nevada sides of Lake Tahoe, the Reno Gazette-Journal reported.
Nevada lawmakers passed bills this spring creating a legal framework for ridesharing companies that's separate from taxi rules. Uber and Lyft launched in Nevada in September.
Company spokeswoman Laura Zapata says being fully regulated in Nevada makes it easier to launch in area where people will frequently cross the state line.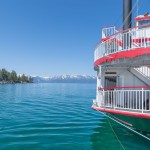 "People have been asking about Tahoe, especially here in the Bay Area right now because they're hearing that ski season is going to be awesome," Zapata said.
Drivers can drop off passengers in Nevada or California, but must be licensed to drive in the state where they pick up fares.
Zapata said Uber is recruiting drivers and could launch as early as next week, though an exact date is unknown.
"We think this launch will be good for business and area tourism," Zapata said, "so we're excited about it."
Related:
Copyright 2021 Associated Press. All rights reserved. This material may not be published, broadcast, rewritten or redistributed.
Was this article valuable?
Here are more articles you may enjoy.