A magnitude 4.5 earthquake that hit south-central Alaskawas felt in the state's largest city, Anchorage, and was one of several recent quakes in the area.
The National Tsunami Warning Center says the quake hit at 12:57 p.m. on Saturday and was centered 50 miles northwest of Homer, a city near the southern end of the Kenai Peninsula.
The quake did not generate a dangerous tsunami.
It was the third notable quake of the day for the state.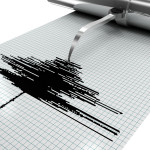 The Alaska Earthquake Center reports a magnitude 6.1 quake at 9:06 a.m. in the Andreanof Islands. The quake was felt in Adak. No damage was reported.
The Alaska Earthquake Center also reports a magnitude 5.0 quake at 4:23 a.m. in the Andreanof Islands.
The center received no reports that it had been felt or caused damage.
Related:
Copyright 2021 Associated Press. All rights reserved. This material may not be published, broadcast, rewritten or redistributed.
Was this article valuable?
Here are more articles you may enjoy.